Big relief: Imran Khan gets protective bail in nine FIRs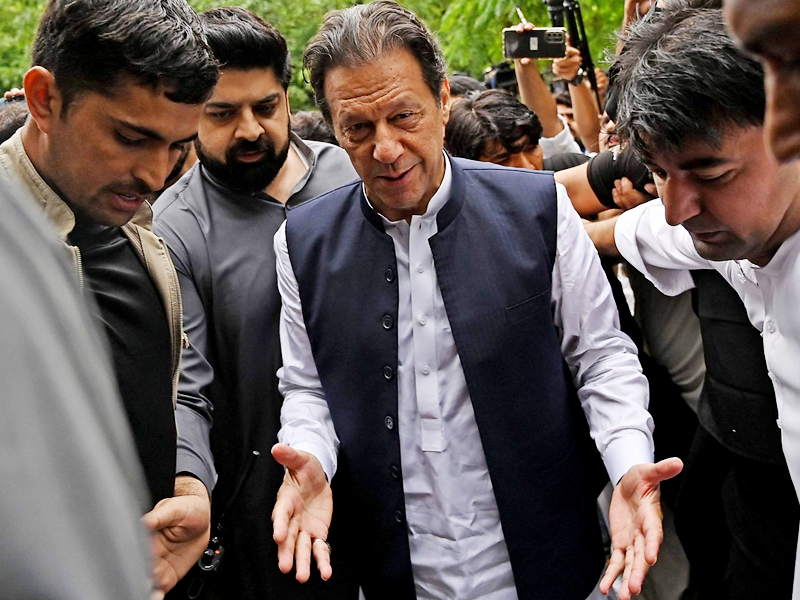 LAHORE: In major relief for Imran Khan, Lahore High Court (LHC) approved protective bails of Pakistan Tehreek-e-Insaf Chairman in eight terrorism cases and one civil case total of nine after he appeared before court in person.
PTI Chief approached LHC earlier in day to seek protective bail in nine cases. Five of those cases are registered in Islamabad and four in Lahore. Two-member bench comprising Justice Tariq Saleem Sheikh and Justice Farooq Haider conducted hearing on bail pleas filed against cases that are lodged under terrorism sections. For five cases in Islamabad, court granted bail to Khan till March 24 and for three cases in Lahore, he received bail for 10 days (March 27).
Justice Sheikh also heard bail pleas that Imran Khan filed against civil cases registered against him, in which he approved PTI Chief's protective bail till March 27. Meanwhile Imran Khan has claimed that government wants to take him to Balochistan so that they can treat him in similar way they treated PTI leaders Shahbaz Gill and Azam Swati. Imran in past has several times accused incumbent government of resorting to extreme violence against two party leaders in custody. Both were arrested on sedition charges in different cases. "They wanted to pick me up and take me straight to Balochistan, which is transparent to everyone," he said during his hearing in Lahore High Court. Imran said that he was ready to appear in court on Saturday but government resorted to violence and attacked his Zaman Park residence.
"There has been an assassination attempt on me, therefore, my only request to court is to transfer Islamabad Court case to some other court," he said.
He assured court that he believed in rule of law and has never broken any law in his life. "Even Interior Minister has expressed concerns over threats to my life."
"Place where Islamabad Court is located is not secured, it is located in narrow street where judges too have been attacked in past," he maintained.
He lashed out at government for resorting to force at his residence. "What happened at my house has never happened before and I cannot even describe it in words. Things were out of my hands. They came with an entire Army as if they wanted to conquer Kashmir."
Khan said that he wanted case filed in lower court against him to be shifted to another court as it was "Death trap". He said that he asked authorities for providing him with adequate security.
At this, Justice Saleem said, "Khan sahab, case has been mishandled at your end." PTI Chief then lamented that "94 cases" have been filed against him and if six more were to be lodged, then they would hit 100. "This will be non-cricket century." Court then granted bail to Khan in cases filed in Islamabad till March 24 and in cases filed in Lahore, he received bail till March 27.
Published in The Daily National Courier, March, 18 2023
Like Business on Facebook, follow @DailyNCourier on Twitter to stay informed and join in the conversation.