Diplomatic tensions surge: India-Canada dispute over Sikh leader's murder deepens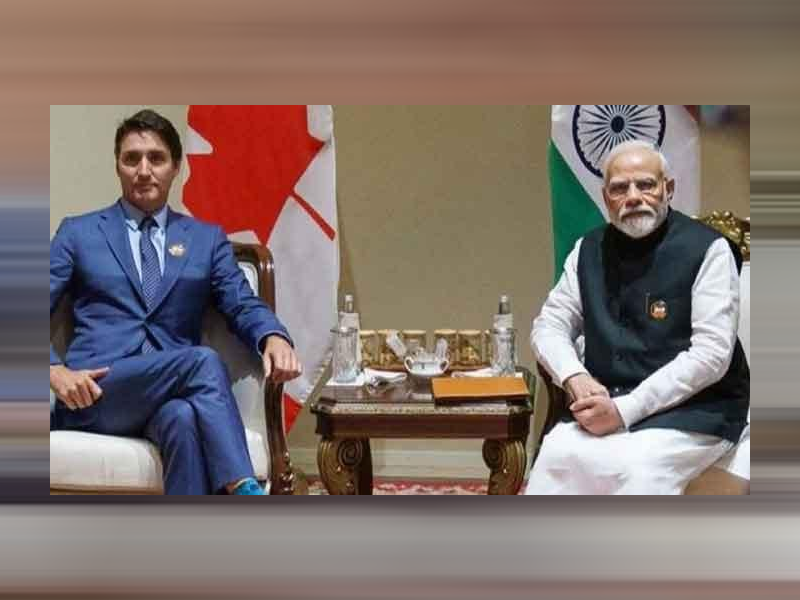 New Delhi: Tensions between India and Canada have taken a significant turn as Canadian Prime Minister Justin Trudeau announced the active pursuit of credible allegations linking Indian government agents to the murder of Sikh separatist leader Hardeep Singh Nijjar in British Columbia in June. India has promptly dismissed these allegations as "absurd," exacerbating a diplomatic rift that has been simmering for years.
This dispute now threatens not only diplomatic relations but also trade ties, as discussions on a proposed trade deal were frozen last week.
In retaliation, both nations have expelled diplomats, engaging in tit-for-tat measures. Canada expelled India's top intelligence agent, while New Delhi gave a Canadian diplomat five days to leave the country.
Trudeau, in an emergency statement before the House of Commons, stressed that any involvement of a foreign government in the killing of a Canadian citizen constituted "an unacceptable violation of our sovereignty." The victim, Hardeep Singh Nijjar, aged 45, was fatally shot outside a Sikh temple on June 18 in Surrey, a Vancouver suburb with a substantial Sikh population. India had designated him as a "terrorist" three years earlier.
Nijjar advocated for a Sikh homeland in the form of an independent state called Khalistan, situated in India's northern state of Punjab, the birthplace of the Sikh religion and bordering Pakistan.
India's foreign ministry has confirmed the expulsion of the Canadian diplomat without disclosing his name or rank. In a statement, the ministry expressed growing concerns about Canadian diplomats' interference in Indian internal matters and their involvement in anti-India activities. The ministry summoned Cameron MacKay, Canada's high commissioner in New Delhi, to notify him of the expulsion.
New Delhi had earlier urged Ottawa to take action against anti-Indian elements in Canada, dismissing the allegations of Indian government involvement in violence in Canada as "absurd and motivated." Similar accusations made by Trudeau to Prime Minister Narendra Modi had been categorically rejected. India insisted that these "unsubstantiated allegations" were intended to divert attention away from "Khalistani terrorists and extremists who have been provided shelter in Canada."
Trudeau revealed that he had personally raised the matter with Modi during their discussions on the sidelines of the G20 summit in New Delhi on September 9 and 10. He urged the Indian government to cooperate with Canada to resolve the issue. In response, Modi expressed strong concern to Trudeau over recent demonstrations in Canada by Sikhs advocating for an independent state.
Canada hosts the largest Sikh population outside the Indian state of Punjab, with approximately 770,000 individuals identifying as Sikhs in the 2021 census. Khalistan, an independent Sikh state, has been a decades-long aspiration. A Sikh insurgency in India resulted in tens of thousands of casualties in the 1980s and early 1990s before being quelled by robust security measures.
The United States and Australia have both expressed "deep concern" over Canada's allegations, while Britain reported close coordination with its Canadian partners regarding the "serious allegations."
India has been particularly sensitive to Sikh protests in Canada, with some Indian analysts suggesting that Ottawa does not intervene due to the political influence of Sikhs in Canada. In June, India criticized Canada for allowing a parade float depicting the 1984 assassination of Prime Minister Indira Gandhi by her bodyguards, seen as the glorification of violence by Sikh separatists.
This month, Ottawa suspended talks on a proposed trade treaty with India, just three months after both countries announced their intention to finalize an initial deal this year. Notably, Modi did not hold a bilateral meeting with Trudeau at the G20 summit, despite meeting other world leaders. In the days leading up to the summit, pro-Khalistan graffiti appeared in metro stations in the Indian capital, further exacerbating tensions between the two nations.