Economic conditions, a factor behind lawlessness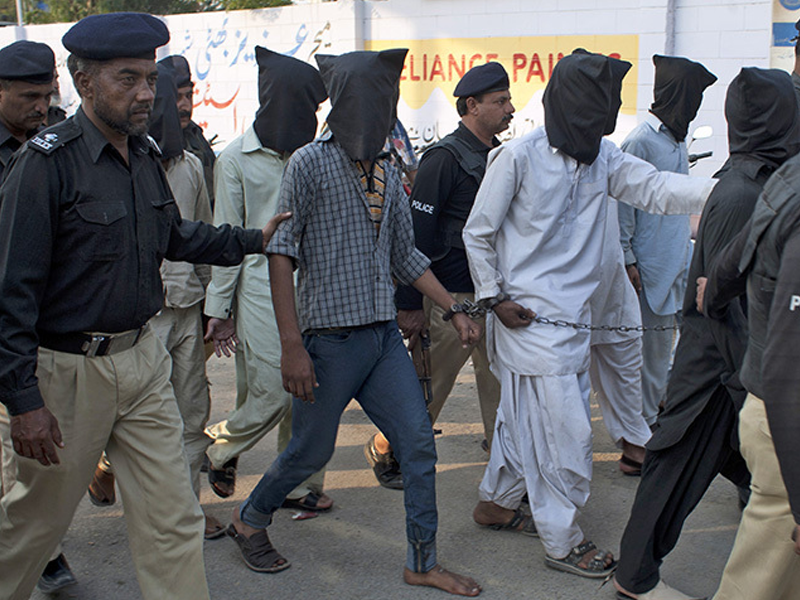 It is welcome to note that CM Murad Ali Shah has taken strict notice of rising street crimes in city and issued directives to clean of street criminals who are on the rampage in the city. while presiding over a meeting on law and order in the province.
Though street crimes have also been rampant in big cities of the country including Karachi but after the corona pandemic there is unprecedented rise in number of such crimes which can be attributed to the economic conditions of the people, who have become jobless and are turning to crimes to make both ends meet.
It is feared that after the floods devastation there will be further rise in such crimes as the economy is going to suffer more losses due to devastating floods that has ravaged the entire country with Sindh and Balochistan as the most affected provinces. The number of street crimes compiled by the law enforcing agencies is alarming as according to the available data more than 56,500 cases of street crime took place in the mega city during the ongoing year i.e. during the first eight months of the current year.
In the wake of this multifold increase in street crimes, it is welcome that CM Murad is issuing fresh directives for curing the street criminals and making them face the music. As a matter of fact, there is a need for an intelligence based operation to deal with the criminals. Citizens in grip of fear due to hike in street crimes.
People from all strata of society including the LEA personnel and the media men are equally exposed to the criminal activities by street criminals, who don't shy away from even killing the citizens on resistance to dacoits. Situation has reached an alarming level and the security administration of the city needs to be on high alert to curb such incidents which are also taking toll on citizen's lives. The modus operand of the street criminals is that they loot people during traffic jams mostly at night and they are roaming in groups which indicate that they are well organized gangs. As a matter of fact, the government, the LEAs, the police and the citizens have to work combined in a well-coordinated manner to come hard on criminals with a view to improving the overall law and order situation in the province. The situation has reached an alarming level and as many as fifty-six citizens have lost their lives in dacoit bids in recent years.
Mobile phone stanching has registered an alarming increase and during the current year, over 19,000 mobile phones were either stolen or snatched from law abiding people.
On the other hand, car snatching is also on the rise and as many as 104 cars and 1,383 bikes were either stolen or snatched at gun point. An estimated 35,000 citizens fell prey to dacoity bids and were deprived of their motorbikes and other valuables in the city. On the other hand, at least 56 people have lost their lives while resisting street criminals and 269 were injured as a result of dacoity and theft bids by street criminals.
The criminals are also targeting wedding gathering and in one such incident they killed a groom at his doorsteps near Kashmir Road. They first kill the security guards and then proceed with their crimes as is evident from one dacoity case where a security guard was shot dead by armed robbers. Right now the citizens are gripped by fear as they feel insecure while carrying out their routine work like drawing cash from banks or ATMs, going for shopping or going out for morning walks or buying essentials from the markets. Criminals appear to strike at will, targeting persons drawing cash from banks or ATMs; snatching purses, mobile phones and other valuables at gunpoint, threatening people trapped in traffic jams; and even shooting citizens over resistance to theft. In one such case of street crime in recent months, eighteen robberies were reported in a single week in a single locality.
Last year also saw the street criminals on the rampage and the citizens lost millions of rupees in armed robberies and snatching at gunpoint with no district of the city remaining safe from the reach of criminals.
The data compiled by LEAs shows that despite a growing number of cases and widespread coverage of street crime by the mainstream media and rising number of people's complaints, such incidents witnessed an upward trend, reason being the economic situation of the masses have worsened in pandemic and the number of street -criminals seems to have multiplied manifold. During the last nine months of 2021, the citizens in the most populous city of the country were deprived of 34,181 motorcycles, 14,578 mobile phones, and 1,268 four-wheeler vehicles.
According to another data by Citizens-Police Liaison Committee (CPLC) report on the soaring number of motorcycle and carjacking cases are a common occurrence in the mega city where stolen vehicles are sold at ease in specified markets where robbers thrive on by taking main share of the booty.
The automobile parts of stolen vehicles are also easily available in the city at low prices and there is no check on the such business.
Published in The Daily National Courier, September, 23 2022
Like Business on Facebook, follow @DailyNCourier on Twitter to stay informed and join in the conversation.