Following traffic rules make lives safer, result in declining accident ratio: AIG Karachi
CAP: 6TH CONSUMERS ROAD SAFETY MOOT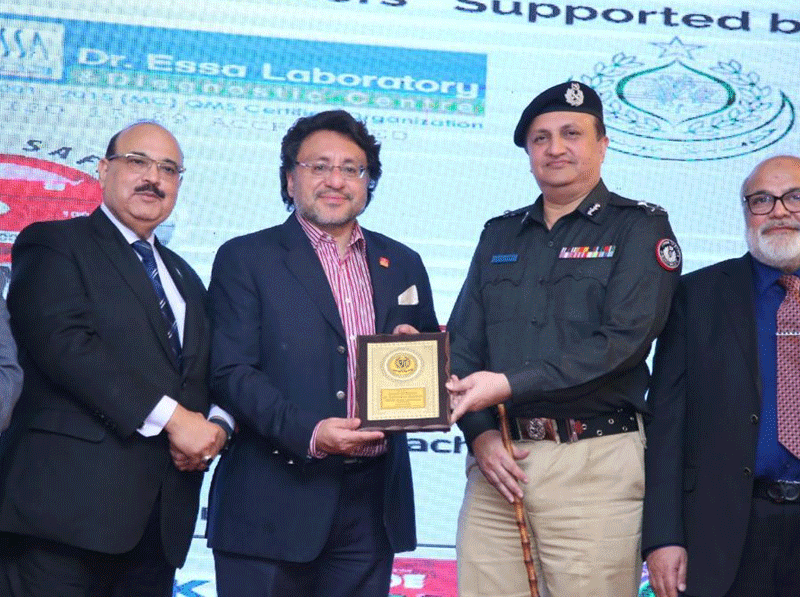 KARACHI: 6th Consumers Road Safety Conference organised by Consumer Association of Pakistan was held at a local hotel in which Additional IG Karachi Javed Alam Odho was chief guest. DIG Traffic Police Ahmed Nawaz, DIG Motorway Police Javed Ali Meher, Ikram Rajput Vice President FPCCI, Dr. Farhan Essa CEO Essa Laboratory attended.
Chairman of Consumer Association of Pakistan Kaukab Iqbal said that Association has been organising conference for last five years to make consumers aware of road safety. Aim of this conference is to make citizens obey traffic rules and raise awareness so that accidents can be minimised and precious human lives can be saved.
He said that traffic accidents are increasing due to wrong direction driving need to be controlled while buyer should be obliged to take helmet at time of sale of motorcycles. Kaukab Iqbal said that young traffic police officers are busy performing their duties in harshest weather and are being given medals and certificates to encourage them. He said that if education department includes driving curriculum in schools great results can be obtained by this.
AIG Karachi Javed Alam Odho said that it is very gratifying that conference will make people aware about traffic rules. He said that traffic rules make human lives safe and by adopting traffic rules, accidents can be controlled to large extent.
DIG Traffic Ahmed Nawaz said that it is responsibility of parents to make their children obey traffic rules so that they follow traffic rules and wear helmets and vehicles while riding motorbikes. Mandatory use of seatbelts while driving that protect their lives. He said that subject related to traffic rules should be part of syllabus so that students can get awareness about traffic rules. Chairman Sindh Consumers Association and CEO Essa Laboratory Professor Dr. Farhan Essa said that Essa Laboratory will give special discount to all traffic police officers in laboratory test because we want to provide facilities to traffic police officers who are doing public service. Javed Ali Mehr said that whether vehicle is driven on Motorway or on normal roads, there is always fear of an accident, but we can significantly reduce traffic accidents by adopting traffic rules.
Officers of Traffic Police Sindh, Motorway Police, representatives of various multinationals, national companies, businessmen and educational institutions were in attendance.
Published in The Daily National Courier, January, 28 2023
Like Business on Facebook, follow @DailyNCourier on Twitter to stay informed and join in the conversation.