Governor Tessori visits Idara Noor-e-Haq, asks Hafiz Naeem to support welfare work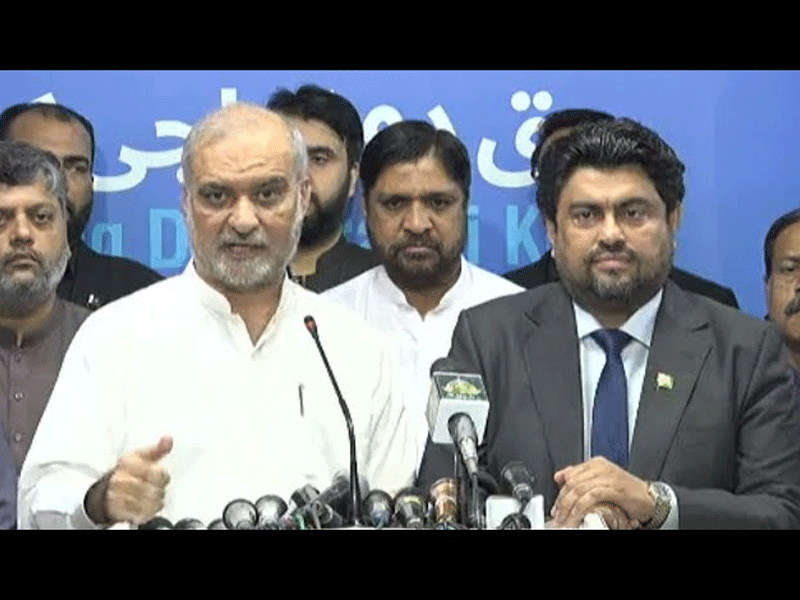 Karachi: Sindh Governor Kamran Tessori visited Idara Noor-e-Haq on invitation of Jamaat-e-Islami amir Karachi Hafiz Naeem-ur-Rehman. Role of all stakeholders for construction and development of Karachi, importance and necessity of consultation to solve issues and other matters were discussed. "I am Governor of entire province and every party, anyone can contact me", Governor said.
Public welfare work will be continued in any case and I also ask Jamaat-e-Islami to help me in welfare work. Due to misunderstanding, situation worsened. I was sure that it would not last long. We will work together. We will continue to talk in same way in future. Development of city has been stalled for many decades. You can come to me. Karachi is still in worse condition than other cities. Roads are broken like hearts of citizens. We raised our voice regarding census of Karachi. Governor said that street crime is big problem of city Security agencies have made sacrifices for peace.
Providing pleasant environment to investors is first priority. Saudi Arabia will develop city. MoU is going to be signed with other countries including UAE. There will be an investment of up to 25 billion dollars. 30 percent of foreign investment will be in Karachi. We have to remember sacrifices of our forefathers and forces, we have to fight lot and now we have to move forward, he added.
Meanwhile, meeting of scholars was held at Governor House. Scholars of all schools of thought, Additional IG Karachi, Commissioner Karachi and relevant officers attended.
Arrangements regarding processions of 12 Rabiul Awwal were discussed. Governor assured meeting to take steps for welfare of people. Governor Tessori said that day of blessed birth of Prophet (PBUH) is most important day for all Muslims.
Scholars of all schools of thought are requested to forget differences and work for development and prosperity of country. Cleanliness and security arrangements would be ensured on all procession routes and special arrangements would be made for street paving and drainage.
Published in The Daily National Courier, September, 23 2023
Like Business on Facebook, follow @DailyNCourier on Twitter to stay informed and join in the conversation.