Hamdard Shura discusses interest-free banking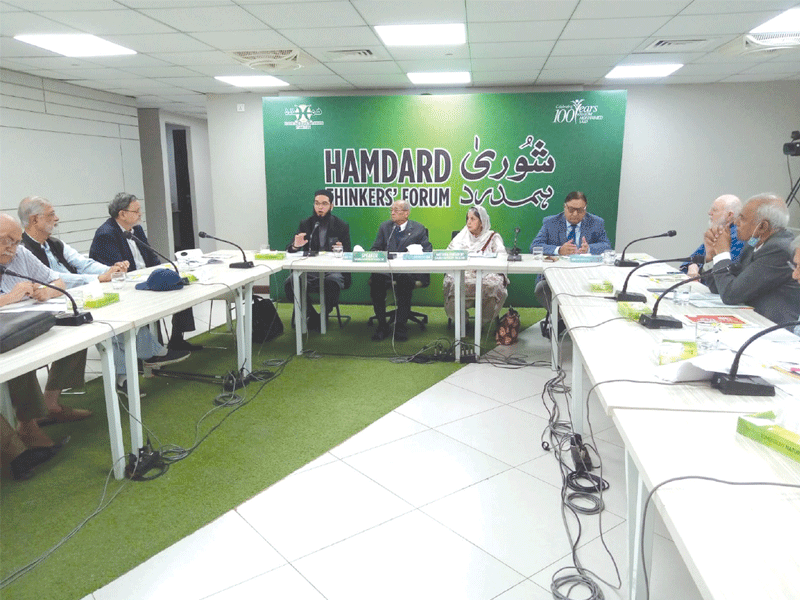 KARACHI: A meeting of Hamdard Shura Karachi at Hamdard Corporate Head Office discussed 'Implementation of an Interest-free economic system. Is it possible?' Presiding over by Justice (retd) Haziq-ul-Khairi meeting featured guest speaker Mufti Dr. Wasie Fasih Butt, an expert in Islamic finance. Hamdard Foundation Pakistan's President Sadia Rashid was also present.
Haziq-ul-Khairi said it was delicate matter that should be resolved in accordance with Islam's teachings and values. "Pakistan faces economic turmoil due to an interest-based system, which has caused an uncontrollable hike in inflation and economic hardships in country" he said. He advised delegations of scholars and experts on Islamic financial system from Pakistan should visit Muslim countries and discuss in length possibility of adopting and implementing interest-free economic model.
Dr. Wasie Faseeh said that due to successful business model of Islamic financial institutions, an alternative to interest-based system had emerged. "Islamic banking has gained strong foothold in Islamic world, which proves that an interest-free economic model offers better options for economic growth and development," he explained. He informed Shura members that globally total volume of Islamic financial market had reached above $ 1 trillion with significant presence in Gulf region and Muslim-majority countries.
"Islamic Banking Division of State Bank has decided to increase Islamic banking market share to 30 percent in its five-year plan until 2025. Therefore, it is imperative that general masses be made aware of benefits of Islamic financing through prestigious forums like Shura Hamdard," he concluded. Lt. Gen. (retd) Moinuddin Haider former Governor Sindh remarked that it was ironic that Muslim scholars were unable to agree on definition of usury (Riba) to this day. "In developed countries, interest rates are very low, which keeps inflation under control.
Therefore, issue of inflation will not be addressed by adopting an interest-free economic model, but by reforming and industrialising country's economy. Exploitation in name of profit is strictly forbidden in Islam. Therefore, government should take serious note of ongoing exploitation in name of charges, rents and profits."
Senator Abdul Haseeb Khan said, "Businesses need short-term and long-term finance to meet their working capital requirements. Moreover, to remain competitive in international market, corporate organisations have to lower their costs of doing business. Islamic banks charge higher percentage than conventional banks, which increases cost of doing business. As Muslims, we all must avoid Riba, but Islamic banks should lower their unnecessary charges to attract businesses." Ibn-ul-Hassan Rizvi articulated that idea of an interest-free economy would not be achieved via legislation alone. There should be curb on black market, corruption and smuggling to create favourable environment. Dr. AbuBakr Shaikh, Anwar-ul-Haq Siddiqui, Dr. Amjad Jafri, Prof. Ikhlaq Ahmed, Usman Damohi, Cdre. (retd) Sadeed Anwar Malik, Col (retd) Mukhtar Ahmed Butt and Huma Baig also spoke.
Published in The Daily National Courier, December, 03 2022
Like Business on Facebook, follow @DailyNCourier on Twitter to stay informed and join in the conversation.