Hybrid sharing session held at Indonesian Consulate in Karachi
INDONESIA-PAKISTANI YOUTH FORUM MARKS 1ST ANNIVERSARY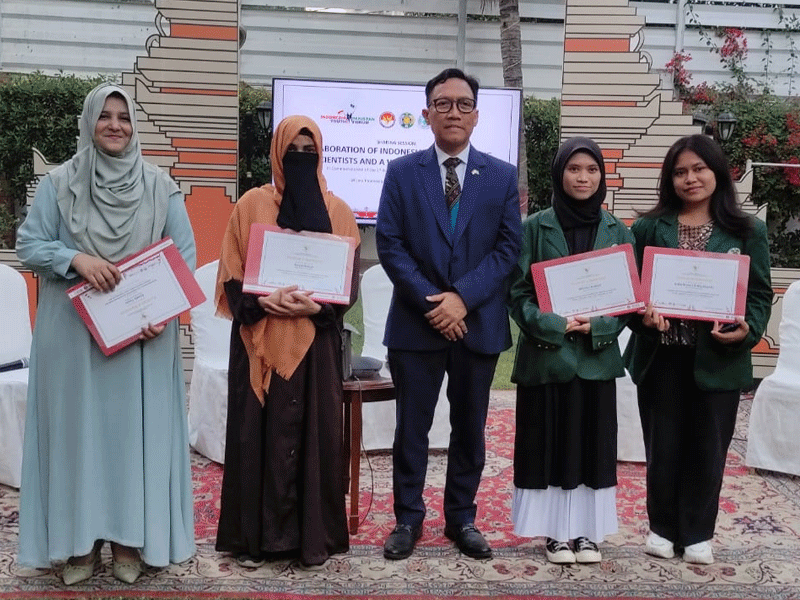 KARACHI: In commemoration of the 1st anniversary of the formation of the Indonesia-Pakistan Youth Forum (IPYF) in 2021 which was initiated by the Indonesian Consul General in Karachi, the Indonesian Consulate General in Karachi has held a hybrid sharing session: Collaboration of Indonesia-Pakistan Young Scientist and a Way Forward of IPYF at Wisma Indonesia, Indonesian Consulate General in Karachi on November 23rd, 2022.
This activity also coincided with the reception of 12 research delegates from the University of North Sumatra (USU) who joined a joint research program with the International Center for Chemical and Biological Science (ICCBS). This is a follow-up to the Cooperation MoU between USU and ICCBS which was signed at the end of 2021.
Present virtually, more than 180 participants consisted of student representatives from various universities in Karachi, namely the University of Karachi, Iqra University, Bahria University, NED University, and Indus University as well as several students in Indonesia, namely from the University of Sumatera Utara (USU), State University Jakarta (UNJ), UIN Syarif Hidayatullah, Al Azhar Indonesia University (UAI), Indonesian Education University (UPI), Telkom University, Udayana University, and Hang Tuah University Surabaya. In addition, Pakistani students studying in Indonesia (Indonesian KNB Scholarship Recipients) at Gajah Mada University (UGM), the University of Indonesia (UI), and Diponegoro University (Undip).
In his remarks, the Indonesian Consul General in Karachi, Dr June Kuncoro Hadiningrat said that IPYF was formed to become a platform that accommodates initiatives to improve Indonesia and Pakistan youth relations in all fields. This is because the interaction between Indonesia and Pakistan is still more limited to the economic field. In particular, the Indonesian Consul General in Karachi emphasized that the arrival of the research team from USU could be an example for other universities in Indonesia and Pakistan in building and realizing cooperation between the two countries.
The Indonesian Consulate General in Karachi has succeeded in increasing cooperation between universities in Pakistan and Indonesia. The Indonesian Consulate General in Karachi emphasized the design of the collaboration program regarding the involvement of youth students, such as student exchanges, workshops, joint research, seminars and others. Meanwhile, the Director of ICCBS, Prof. Muhammad Iqbal Chaudhary, in his online remarks from Jeddah, expressed his gratitude and appreciation to the Indonesian Consul General in Karachi who had succeeded in realizing the MoU on Cooperation between ICCBS and USU. It is hoped that this joint research collaboration will further strengthen the relationship between Indonesia and Pakistan in the field of science through the support of the Committee on Scientific and Technological Cooperation (COMSTECH), under the umbrella of the Organization of Islamic Cooperation (OIC).
As resource persons, 2 (two) female PhD level researchers from ICCBS, namely Ms Anila Fayaz and Ms Faryal Ashraf; and 2 (two) USU female students, Ms Alfi Dwi Hadiani and Ms Artha Risma Uli Napitupulu. Apart from that, 2 (two) Pakistani students who received the Indonesia Partnership for Developing Countries (KNB) scholarships, namely Mr Taimoor Ahmed (Alumni of the Master of Management at Atma Jaya University and Mr Zeeshan Hamid Malik, Gadjah Mada University (UGM) student). In the discussion, it was agreed that it was necessary to intensify cooperation in the field of research between the younger generations of Indonesia and Pakistan, but also to expand cooperation in other fields including the field of social sciences.
Published in The Daily National Courier, December, 01 2022
Like Business on Facebook, follow @DailyNCourier on Twitter to stay informed and join in the conversation.