Japanese CG inaugurates int'l photo exhibition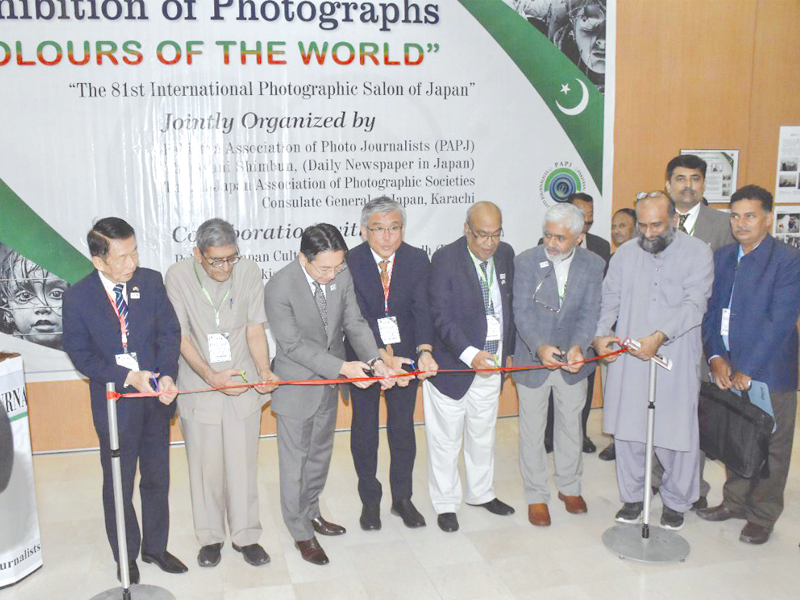 KARACHI: To mark 70th anniversary of diplomatic relations between Pakistan and Japan, an international photo exhibition was organised under umbrella of Pakistan Association of Photojournalists in collaboration with All Japan Association of Photographic Societies, Japan's multi-circulation daily Asahi Shimbun and Consulate of Japan in Karachi. Exhibition will be open to general public from October 7 to October 13.
International exhibition was inaugurated by Odagiri Toshio, Consul General of Japan, Zahid Hussain founder of Pakistan Association of Photojournalists, Sakuma Yasuo, former photojournalist of daily Asahi Shimbun visiting from Japan, Azmat Ataka, Muhammad Zubair, Kaleem Farooqi President of Pakistan Japan Business Forum and Faysal Edhi were present.
Odagiri Toshio said that this photo exhibition will play an important role in promotion of friendship between Japan and Pakistan. He appreciated efforts of Azmat Ataka, PAPJ and Pakistan-Japan Cultural Association and expressed determination to strengthen Pakistan-Japan friendship.
Sakuma Yasuo expressed hope that relations between two countries will be strengthened through cooperation with Pakistani photojournalists.
Zaid Hussain founder of PAPJ hoped that this exhibition would give Pakistani photojournalists an opportunity to understand and learn about international standards of photography.
PAPJ's representative for Japan, senior photo and video journalist Zubair announced that a photographic exhibition of Pakistani photojournalists will be held in Tokyo in December 2022.
Exhibition showcases photographs from 81st Annual International Exhibition held in Japan, which includes photographs by photographers from 30 countries including photographs of Pakistan's senior photojournalist Zubair based in Japan and Pakistan's internationally renowned photojournalist Jahangir Khan.
Sakuma Yasuo expressed hope that friendly relations between Japan and Pakistan will be strengthened through this photo exhibition.
Adeel Khan, senior member of PAPJ said that through this exhibition, relations between photojournalists of Pakistan and Japan will be reinforced and people of both countries will understand each other's society and culture in a better way.
Jahangir Khan who has received photography education and training from Asahi Shimbun in Japan said that this is a unique photo exhibition in Pakistan called Colour of World. He said that Pakistani photojournalists and photographers will be able through this exhibition to understand new techniques and angles.
Published in The Daily National Courier, October, 07 2022
Like Business on Facebook, follow @DailyNCourier on Twitter to stay informed and join in the conversation.