PM Kakar calls for countering all terrorism forms
'Hindutva inspired extremists'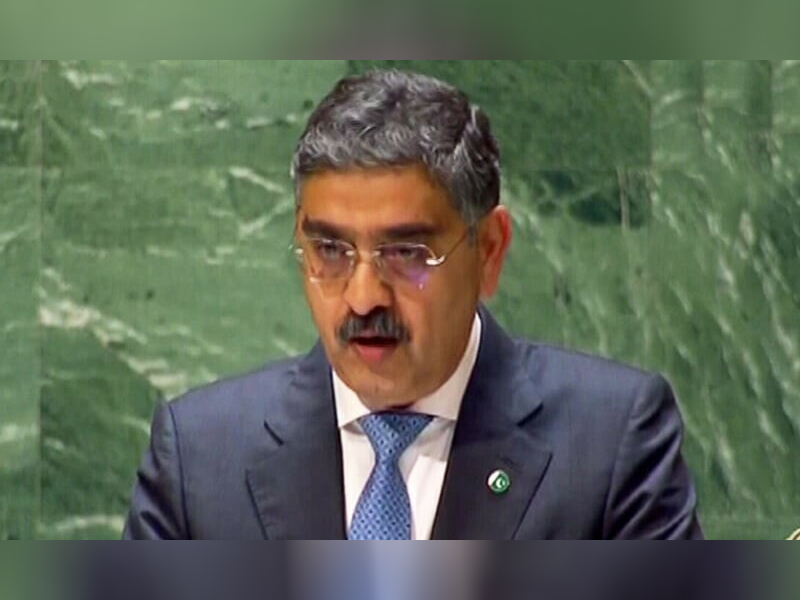 New York: Caretaker Prime Minister Anwaarul Haq Kakar in his address at 78th session of United Nations General Assembly here called for countering all forms of terrorism including "Hindutva extremists".
"MR President, we must counter all terrorists without discrimination including rising threat by far-right and fascist groups such as Hindutva-inspired extremists threatening genocide against India's Muslims and Christians alike," PM Kakar stated.
He urged opposition against root causes of terrorism which according to him included poverty, injustice, foreign occupation and distinguishing genuine freedom struggles from terrorism.
"Pakistan proposes creation of committee of General Assembly to oversee balanced implementation of all four pillars of global counter-terrorism strategy," PM added. During an interview on sidelines of UNGA, PM Kakar said, "We will raise [issue] at different forums not because we want to do any propaganda against India, but because of disgusting reality hidden behind Hindutva's political agenda in which fascism and chauvinism are very deeply rooted, it is such dangerous phenomenon that it can ensnare whole region and rest of world in fires of war."
"We have been suffering this face and side of India but problem is that this is hitting Western capitals now," PM Kakar said. Pakistan, he continued, would not mock Western countries for not paying heed to warnings but would instead play role in ensuring that danger [of Hindutva] was understood and action was taken to stop it. He said slain Sikh separatist leader was "Innocent" and "Martyr", adding that murder of an innocent person was "Major crime".
"India as state has killed humanity on Canadian soil which cannot be condemned enough." "We see rise of old and new military and political blocs-geopolitics is resurging when geoeconomics should have primacy."
He recalled that far-reaching commitments were made to implement sustainable development goals (SDGs) during climate summit yesterday and called for realisation of these commitments through "Rechanneling of unused special drawing rights for development and resolution of debt problems of 59 countries in debt distress".
During his address, premier stressed that Pakistan desired peaceful relations with all countries, including India, but at same time highlighted that Kashmir issue was key to peace between two South Asian nations. PM Kakar also stated that peace in Afghanistan was imperative for Pakistan. Towards end of his speech, premier highlighted need to cherish and celebrate diversity and different ways of life, mutual respect, sanctity of religious symbols and scriptures and personages.
Published in The Daily National Courier, September, 23 2023
Like Business on Facebook, follow @DailyNCourier on Twitter to stay informed and join in the conversation.