SBCA comes hard on builders illegal structures razed down to ground in Liaquatabad Nazimabad areas
DISTRICT CENTRAL: DRIVE AGAINST ILLEGAL BUILDINGS CONTINUES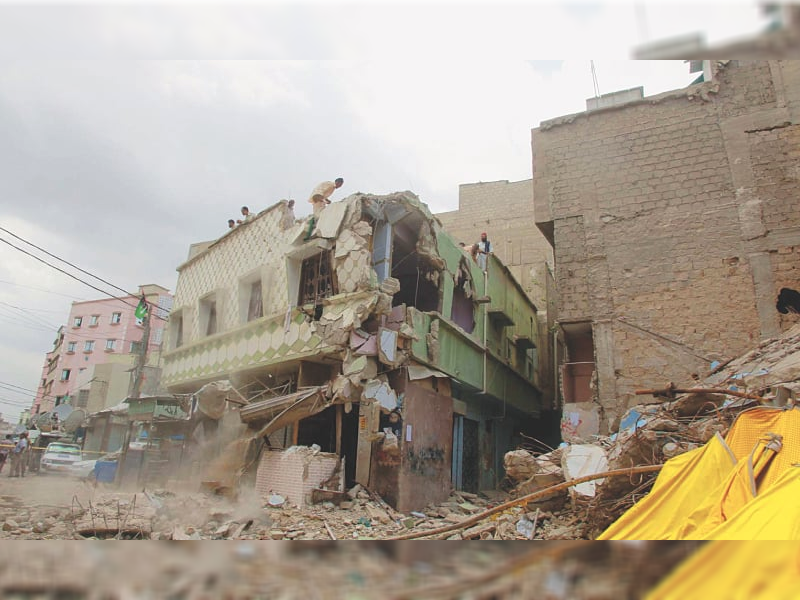 KarachI: In a series of operation against illegal structures in District Central, Sindh Building Control Authority has started bulldozing unauthorized and illegal buildings in the areas of Liaquatabad and Nazimabad.
In this regard, senior leader of Pakistan Peoples Party Dr Asim Hussain has also paid great attention to get rid of the menace of illegal structures by taking on board District Central administration and the representatives of the SBCA as with every passing day the rampant increase in the illegal structures is causing difficulty for the residents who are living since decades in these areas. DC Central TahaSaleem in coordination with the highups of Sindh Building Control Authority is also monitoring this operation continuously.
In the most recent ones, Sindh Building Control Authority demolished illegal constructions in parts of Liaquatabad number 3, 4, 5, 6 and in block 7. Moreover, rapid action has also been started in Nazimabad No.3 where illegal structure 14/7 3D raze down. In Liaquatabad no 4, 4/42 in block 4, fifth floor was constructed illegally which has also been demolished.
Similarly in Liaquatabad No 5/947 fifth floor of a project also razed down. Likewise in 6/4/10 Liaquatabad No 6, un-authorised fifth floor of an apartment also demolished. In CS 36, block 7, unauthorised temporary room also smashed down by SBCA.
It is pertinent to mention here that this action will discourage tendency of builders and encroachers and no any will dare to construct illegal structures in future.
District Central Administration, Sindh Building Control Authority is gearing up ahead to jointly conduct many more drives where all illegal structures will be demolished phase wise in full conformity with the orders of the court.
Published in The Daily National Courier, October, 03 2022
Like Business on Facebook, follow @DailyNCourier on Twitter to stay informed and join in the conversation.