Ufone 4G, ConnectHear join hands to enable accessibility for deaf community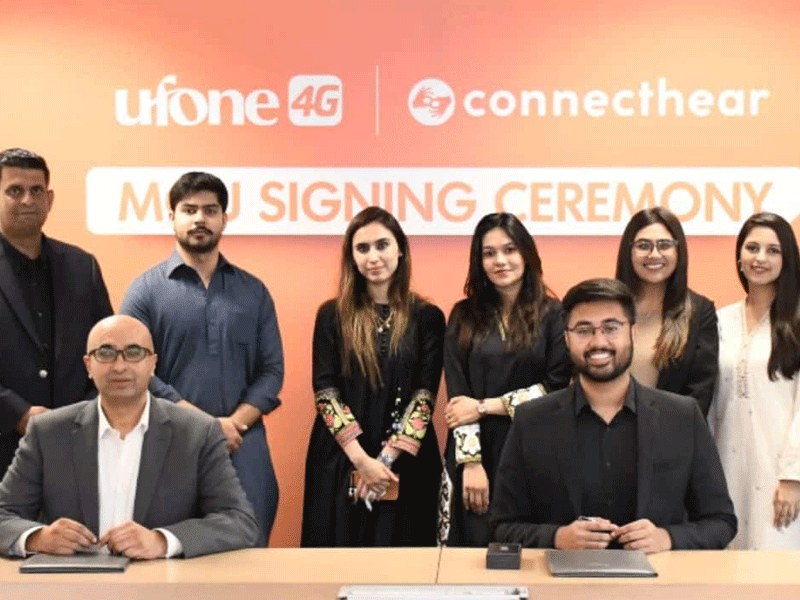 Islamabad: PUfone 4G and ConnectHear aiming to enable and empower persons with disabilities have collaborated to improve accessibility for deaf community to enhance their socioeconomic integration. Amir Pasha, Group Director PR, Media, CSR and Corporate Communication, PTCL and Ufone 4G and Arhum Ishtiaq, Co-founder/CTO ConnectHear signed agreement here.
Amir Pasha Group Director PR, Media, CSR and Corporate Communication PTCL, Ufone 4G said, "More than 6 percent of Pakistani population is differently-abled that needs to be integrated into country's socioeconomic ecosystem. "
"ConnectHear is thrilled to partner with Ufone to take our mission of creating an inclusive and accessible society one step further," said Azima Dhanjee CEO of ConnectHear.
Ufone 4G has been leveraging its technological expertise to promote equal access to social and economic opportunities while ConnectHear provides means of independent communication and information in sign language.
Through its partnership with ConnectHear, Ufone 4G will provide free data access to ConnectHear's digital app that provides instant and remote access to sign language interpreters to help deaf community communicate. Equipped with Ufone 4G's reliable and speedy data connection, people with hearing impairment will be able to communicate with ease and access no matter wherever they are in country.
Published in The Daily National Courier, March, 18 2023
Like Business on Facebook, follow @DailyNCourier on Twitter to stay informed and join in the conversation.