Zardari's inside story in meeting with Ch Shujaat unearthed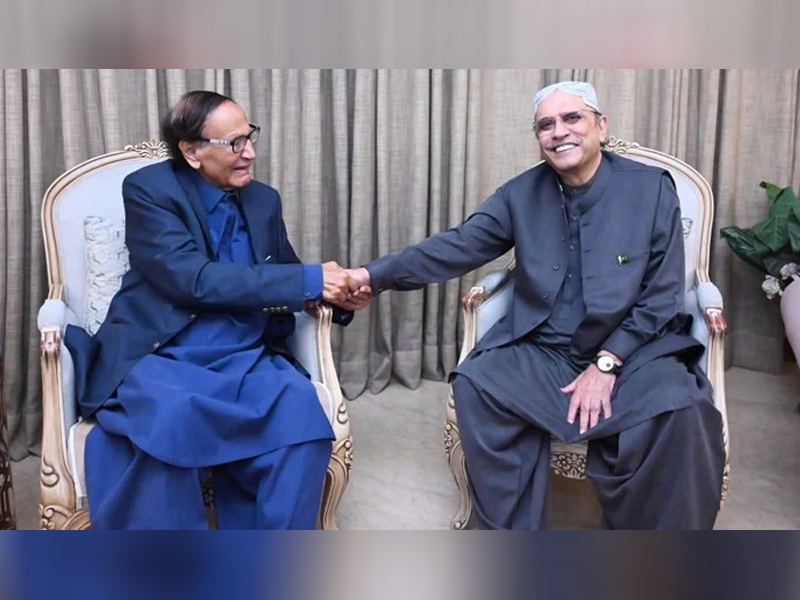 ISLAMABAD: Inner story of meeting between former President Asif Ali Zardari and Chaudhry Shujaat Hussain has come to open.
According to sources Asif Zardari is very worried over attitude of PML-N and prevailing political situation. He sought advice from Chaudhry Shujaat in connection with political set up as how to move forward. Veteran politician and PML-Q Chief Shujaat advised his former coalition partners—PPP and PML-N to avoid conflict, saying "This is not in country's interest".
Asif Zardari complained PML-N has backtracked from its promises made at time of formation of ruling alliance. PML-N had promised to walk side by side with PPP in future set up which does not seem to be materialising. Khawaja Saad Rafiq, Ayyaz Sadiq and Rana Sanaullah are witnesses to it. Sources said Asif Zardari complained that now they are realising that attempt is being made to push PPP to wall. Therefore, Bilawal and other leaders are complaining against lack of level playing field.
Asif Zardari said some people from powers that had made promises and we are looking towards them too. Sources disclosed Asif Zardari while addressing Chaudhry Shujaat said, "Chaudhry Sahb, political alliance and personal relation with you will remain as it is. We will walk alongside you in polls as well. In Sindh PML-N has inclination towards rival political parties of PPP. Pressure is on me from party for taking clear position."
Chaudhry Shujaat said to Asif Zardari promises made by ruling coalition should be fulfilled. When Shehbaz Sharif returns to Pakistan I will take up this matter with him in meeting. Chaudhry Shujaat also assured Asif Zardari he will talk to Nawaz Sharif too in this regard.
Published in The Daily National Courier, September, 23 2023
Like Business on Facebook, follow @DailyNCourier on Twitter to stay informed and join in the conversation.