Dangerous shortage of water and Pakistan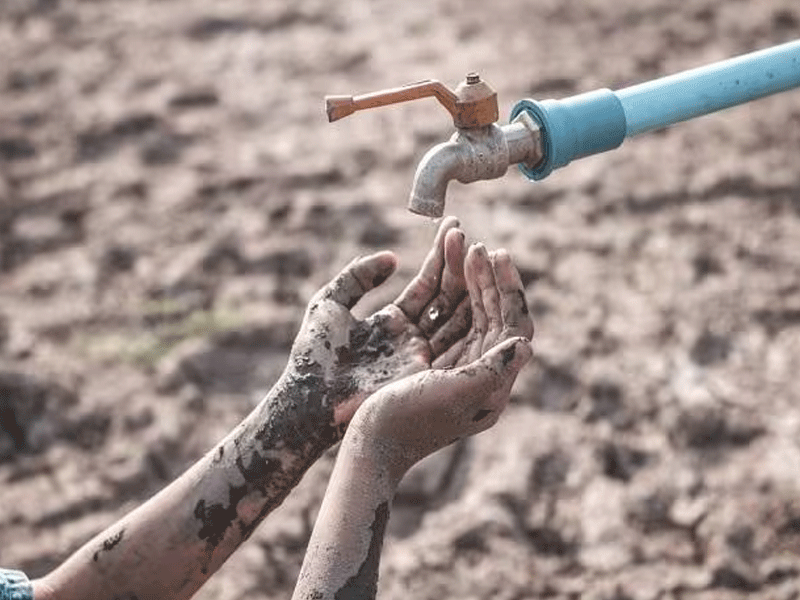 The United Nations has also warned that the growing population and the dangerous shortage of water are bringing mankind closer to dangers. There is a risk of global wars over the distribution and differentiation of water resources, Secretary General Antonio Guterres said at the World Conference on Water Resources held at the UN headquarters, adding that we have destroyed the natural system of water supply and wasted it brutally.
About 4 billion people experience acute water scarcity for one month each year and 1.6 billion people, a quarter of the world's population, have difficulty accessing clean, fresh water. According to the latest report, floods have increased by 24% since 2000, while the duration of drought has increased by 29%. Growing population and global economic activity have increased the pressure on water reserves. Fears are being expressed that water shortage will force millions of people to migrate, water supply will become uncertain in many places due to climate change.
According to the World Health Organization, only 22 percent of Pakistan's population has access to clean drinking water, while 85 percent are facing problems.
Along with preventing wastage of water, recycling and construction of dams for agricultural purposes is our most important national need. Evidence shows that water scarcity is a major threat in Pakistan. The question is, how big a risk is it? How fast is it growing? And what should we do to deal with it or avoid it?
These are questions that need to be answered as soon as possible, before it's too late.
According to WWF, the available amount of water in Pakistan is 250 billion cubic meters, of which ninety percent is for agriculture, four percent for industry and the remaining six percent for domestic use. That is, only 15 billion cubic meters of water out of 250 are available for domestic use. If we talk about water for domestic use only, 70% of the 22 crore people do not have access to clean drinking water. According to the World Financial Organization, Pakistan is at the third place in the list of countries facing water scarcity. Along with this, according to UNDP and Pakistan Council of Research in Water Resources, Pakistan will suffer from water shortage by 2025. Researchers also say that if the situation continues and no measures are taken, by 2040 Pakistan will become the most water-scarce country in South Asia.
This data and research is not done for the first time but it has been highlighted many times.
In 2016, the Pakistan Council of Research in Water Resources said in its report that Pakistan reached the water stress line in 1990 and crossed the water scarcity line in 2005.
Pakistan is fourth in the list of countries that consume the most water. According to the World Finance Organization, per capita water availability in Pakistan is 1017 cubic meters, while in 2009, this availability was 1500 cubic meters.
Global experts say that if this availability reaches 500 cubic meters, the country will face absolute water shortage by 2025. Many reasons are being given for water shortage in Pakistan. According to the Pakistan Council of Research in Water Resources, these include rapid population growth, lack of water storage and indiscriminate use of groundwater. The three major dams in Pakistan have an average water storage capacity of 9% compared to a global average of 40%. If we still feel that water scarcity in Pakistan is not a near future problem then we as a nation have to think again. Water scarcity is a time bomb and the day it explodes, 22 crore people will face water scarcity. The reason is not that Pakistan does not have water, but the real reason is that we are not giving importance to water resources and are not taking steps in this regard.
According to the World Bank report, Pakistan has a large amount of water and there are only 35 countries in the world that have more water resources than Pakistan, but the water resources are not being managed and the growing population is putting more pressure on the existing resources. It is pressing.
On the one hand, climate change is putting more pressure on our existing system in the form of erratic rains, droughts and floods.
Pakistan is among the 10 countries that are severely affected by climate change. Pakistan is named after Puerto Rico, Myanmar, Haiti, Philippines. A recent report by ActionAid and other organizations states that despite measures taken to prevent climate change, rising sea levels, water scarcity, reduced agricultural production and droughts are expected to cause Pakistan to become a global disaster by 2030. 600,000 people will be displaced and forced to relocate. However, if immediate measures are not taken to prevent climate change, the number of people affected may double that is 1.2 million. The United Nations Panel on Climate Change recently warned the world that climate change is dangerously close to being out of control and that humans are responsible for it. It says that extreme heat will only increase in different regions of the world, not decrease, which means that extreme heat waves, floods and other extreme weather events that are currently occurring in different countries will become more intense.
The city of Jacobabad in the Sindh province of Pakistan experienced extreme heat and the temperature rose above 52 degrees Celsius in recent years. Experts also said that if such heat is maintained for a few more hours, people's organs may react and death may also occur. According to scientists, so much heat has happened in Jacobabad much earlier than their expectations. He says that the areas of Pakistan along the Indus River will be more affected by climate change and the temperature will increase further in the near future.
Water scarcity is still not on the government's radar. No coherent policy or narrative has emerged in this regard. Time is running out. The country's 22 crore people will probably become 25 crore by 2025. 2025 is the year which is being said that Pakistan will suffer from absolute water scarcity.
Absolute water scarcity will not only affect the people living in the desert areas of Pakistan but also the population living in the northern regions of the country where there are more than 5000 glaciers.
Published in The Daily National Courier, March, 25 2023
Like Business on Facebook, follow @DailyNCourier on Twitter to stay informed and join in the conversation.