Khalistan Referendum-II announced by SFJ in Surrey, Canada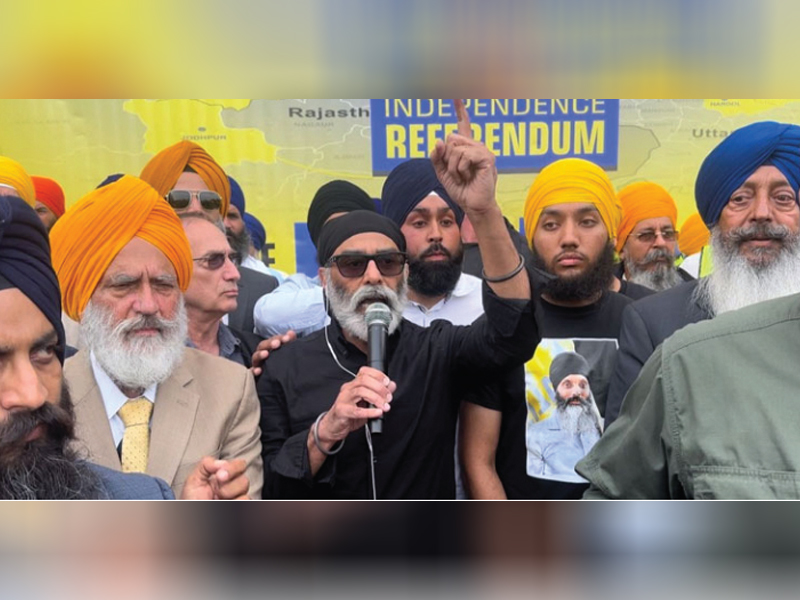 WASHINGTON D.C.: In bold move that has raised eyebrows and stirred controversy, secessionist group Sikhs For Justice (SFJ) has declared upcoming "Khalistan Referendum-II," scheduled to take place on October 29, 2023 in Surrey, BC, Canada.
Announcement comes amidst heightened discussions on pro-Khalistan activities in Canada and principled stand taken by both Liberal and Conservative leadership regarding matter.
Announcement of Khalistan Referendum-II and accompanying "Kill India Referendum" has ignited heated debate, both within Sikh community and on broader Canadian political stage, as discussions surrounding future of Khalistan continue to unfold.
SFJ, an organisation advocating for an independent Khalistan has also unveiled its intention to host 'Shaheed Nijjar Kill India Referendum.' This referendum will address question of whether Indian High Commissioner Verma is responsible for assassination of Hardeep Singh Nijjar. Gurpatwant Singh Pannun, General Counsel of SFJ, made statement regarding their cause, drawing parallels with historical events.
"From Bullet to Ballot, pro Khalistan Sikhs have come long way to liberate Punjab from Indian occupation." This declaration echoes long-standing aspirations of pro Khalistan Sikhs for an independent homeland.
Decision to hold these referendums follows recent Khalistan Referendum-I, which took place on September 10 at Guru Nanak Sikh Gurdwara.
During this event, over 135,000 Sikhs exercised their right to vote, while more than 50,000 individuals could not cast their ballots before voting period concluded.
Canada's stance on Khalistan issue has been topic of discussion, with Prime Minister Trudeau defending right of Canadian Sikhs to peacefully advocate for Khalistan during G20 summit.
Conservative Leader Pierre Poilievre also expressed his views on matter, emphasising importance of freedom of expression in Canada.
He drew comparison to Quebec separatists, highlighting that individuals who believe in Khalistani cause have same right to express themselves, even to extent of having representation in House of Commons.
Published in The Daily National Courier, September, 16 2023
Like Business on Facebook, follow @DailyNCourier on Twitter to stay informed and join in the conversation.