Arts Council organises 'National Art Exhibition'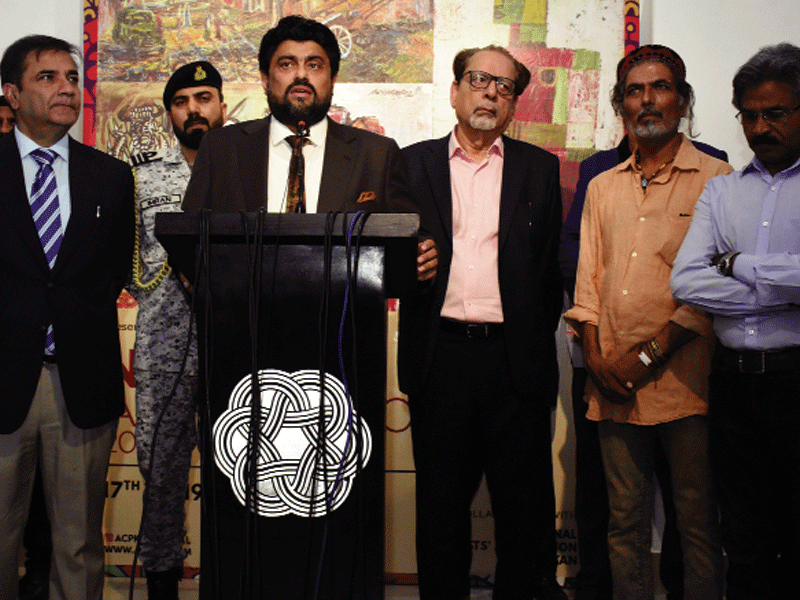 Karachi: National Art Exhibition 2023 was organised in collaboration with Arts Council of Pakistan Karachi and National Artists Association of Pakistan. Artworks of Anwar Maqsood, Ijaz ul Hassan, Zulfiqar Zulfi, Farrukh Shahab, A.S Rand, Moin Farooqui, Shahid Rasam, Abbas Kamangar and other artists from all over Pakistan have been exhibited. Exhibition was inaugurated by Sindh Governor Kamran Tessori. Governor said that painter reflects past and the future, organising National Art Exhibition is welcome thing, such painters should be brought forward, in this country in past years when poets, intellectuals and painters have been silenced, social evils have been born in country, leaving these three classes behind where does Pakistan stand? He said when you do good job and bring people together, that's why people choose you this art is with Ahmed Shah. We are extending our hands despite presence of natural resources in seventy-five years, our rulers have created everything for themselves. Pakistan is busy paying off debt, we have to break our silence, Ahmed Shah said that main objective of National Art Exhibition is Pakistan, which is now politically, linguistically and religiously divided. It is duty of poets, painters and writers to strengthen federation.
Arts Council organised Pakistan Literature Festival in Lahore, we were warmly welcomed by people of Punjab, he said.
Farrukh Shahab thanked President Arts Council for organising National Art Exhibition. All artists of Pakistan are gathered on one platform, I welcome them. Number of people related to art and painting participated in exhibition will continue till March 19.
Published in The Daily National Courier, March, 18 2023
Like Business on Facebook, follow @DailyNCourier on Twitter to stay informed and join in the conversation.