Israel Army martyrs nine Palestinians, including elderly woman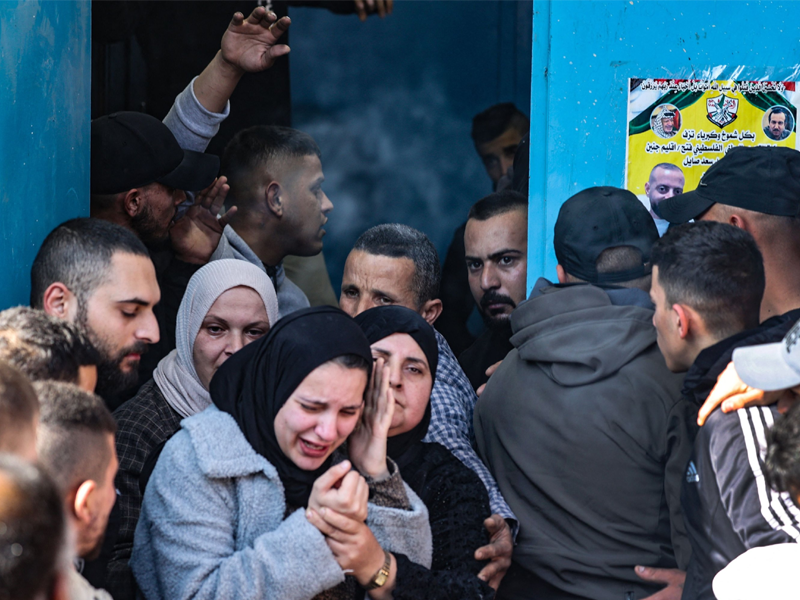 OCCUPIED JERUSALEM: Israeli troops killed at least nine Palestinians in one of deadliest days in occupied West Bank since Israeli raids intensified at start of last year.
Palestinian Ministry of Health said 20 others were wounded with live ammunition in raid on Jenin refugee camp, which Palestinians have described as "Massacre". Four of them were in critical condition.
Dead included an elderly woman, according to Palestinian officials. She was identified as Magda Obaid by Jenin hospital authorities. Israeli forces, who withdrew from Jenin after killings, said they were looking into reports of woman's death.
Meanwhile, Al-Aqsa Martyrs' Brigade an armed militia affiliated with Palestinian political party Fatah said dead included one of its fighters, Izz al-Din Salahat. According to health ministry, another person, Saeb Azriqi (24) succumbed to his injuries in hospital.
It said situation on ground was very difficult with injured people continuously reaching hospitals, as it accused Israeli forces of obstructing ambulances and medics. "There is an invasion that is unprecedented in terms of how large it is and the number of injuries," Wissam Baker, head of Jenin public hospital, told Al Jazeera. "Ambulance driver tried to get to one of martyrs who was on floor, but Israeli forces shot directly at ambulance and prevented them from approaching him," Baker continued.
Israeli forces also fired tear gas canisters towards hospital, affecting children's division, Baker said. It caused suffocation injuries to children and others, he said.
Israel's Army denied deliberately firing tear gas at hospital. "No one shot tear gas on purpose at hospital," an Army spokesman said. "But activity was not far away from hospital and it is possible some tear gar entered through an open window."
Published in The Daily National Courier, January, 27 2023
Like Business on Facebook, follow @DailyNCourier on Twitter to stay informed and join in the conversation.