Putin, Kim send rivals warning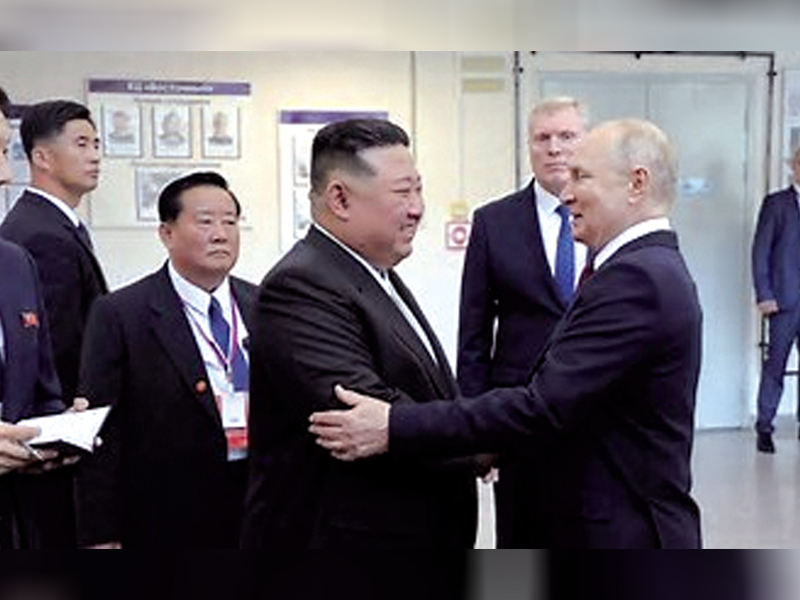 Kremlin: Whatever practical cooperation emerges from this week's summit between Russian President Vladimir Putin and North Korean leader Kim Jong Un, their deepening relationship is aimed at sending their rivals warning, analysts said.
Calling each other "Comrade", men toasted their friendship after Putin showed Kim Jong Un around Russia's most modern space launch facility and they held talks alongside their defence ministers.
Two countries have an interest in demonstrating that, despite their geopolitical isolation, they have partners they can call on. And both seek to weaken US-led sanctions and pressure campaigns, against Russia over war in Ukraine and against North Korea for its nuclear weapons and missile programmes, analysts said.
"Putin and Kim would both gain from transactional bargain but they would also gain geopolitically by giving off impression that their nuclear-armed countries are cooperating militarily and sending warning about potential consequences to America's allies and like-minded partners that support Ukraine," said Duyeon Kim, of Center for New American Security.
"Kim Jong Un would also be signalling to Washington, Seoul and Tokyo that Russia has his back in Northeast Asia."
Both Russia and North Korea have denied US claims that they plan to provide each other with weapons, but leaders promised to deepen defence cooperation and Putin said Russia would help North build satellites.
Published in The Daily National Courier, September, 15 2023
Like Business on Facebook, follow @DailyNCourier on Twitter to stay informed and join in the conversation.