Bumper rice crop vs food shortage in country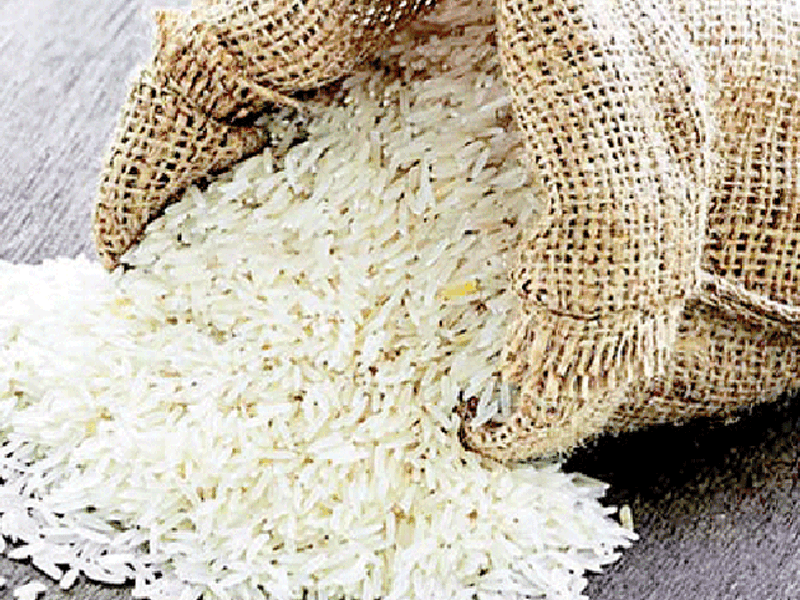 The fact that one in every five people in our country go to bed on an empty stomach is a grave reminder of rife food shortage in Pakistan.
But at the same time, some good news are also on the anvil, one being the bumper rice crop in the country, which is a matter of rejoice.
Pakistan's economy, suffering from trade imbalance, is currently limited to benefiting from the agricultural sector to the extent that it has to export a large part of its rice production instead of meeting its domestic needs. At present Basmati rice is being sold at an average of Rs 300 to 380 per kg domestically.
On the other hand, its demand has been increasing rapidly at the global level. According to the latest report, due to the extraordinary harvest this year, the export of basmati rice seems to reach 5 million tons compared to last year's 4 million tons, which will earn three billion dollars in foreign exchange.
Currently, Indian rice is banned in the world market for various reasons, one of which is that Basmati rice, which is produced only in Pakistan, India tried to cheat by giving this name to its production. While India's position is that it has stopped its export to meet its domestic needs. According to the Rice Export Association of Pakistan, this year Mexico and Russia have opened their markets for the purchase of Pakistani rice. Indonesia, which was buying 90,000 tons of rice from Pakistan, has increased its demand by 200,000 tons. Although this is an encouraging situation for Pakistan, the local need of the country cannot be neglected.
In the past, Pakistan has been self-sufficient in wheat, rice, maize and cotton production, today it is forced to import them by spending a lot of foreign exchange to meet local needs.
Most of the countries with agricultural economy have revolutionized their production per acre thanks to science and technology. Pakistan also has its complete infrastructure including universities and competent scientists, which farmers should benefit from. The escalating food shortage and a looming food crisis have been termed to be the real concerns for Pakistanis right now as prices are increasing behind imagination. Though the food prices inflation and shortage had already been an issue after the corona pandemic but after the last year's floods, which damaged an estimated eighty per cent of our standing food crops including wheat, rice and sugarcane, food shortage rose to a level to become a real concern. On the other hand, the economic crisis due to which the letter of credit opening issue last year, further added to our food woes as a number of containers bringing food from abroad were stuck for months at the port.
Food items and edible containers were being held at the port as banks were not clearing the dues due to the crisis of the opening of Letter of Credit and some perishable food items wasted in this way. As our foreign exchange reserves had fallen to record low, the import of food was also halted for months. The purchasing power of the citizens has shrunk by thirty-five per cent.
However, after the IMF deal, the situation improved a bit and food import has started, but again it is a burden on the exchequer and not good for an agriculture country.
As a matter of fact, the food prices are definitely hit by the conditionality's arising out of rising energy prices and cost of doing business as rising prices of seeds, fertilizes and food import etc. On the other hand, the food crisis in the country was also aggravated by the war in Ukraine last year and the record depreciation of Pak rupee. We used to import quite a good quantity of fertilizers and wheat from Ukraine that was stopped after the war in Ukraine and soon after the Ukraine war was followed by biblical floods that damaged eighty per cent of the country's standing crops, so one can imagine the loss. Pakistan food crisis has reached an alarming level as is evident from the little availability of across the country and the provision of same at exorbitantly higher prices.
The masses are running from pillar to post to get wheat flour at affordable prices. The price of 20kg flour bag in the mega polis is selling at Rs 3,200 and the food consumers are in a fix as to what to do to make both ends meet. The food crisis is aggravating with every passing day as the old supplies of wheat are running out while the new crop is yet to arrive. In fact, the new wheat crop is sixty days away. And one more aspect of the crisis is that the shopkeepers and the middlemen mafia are also making life hell for the common man as they contribute their bit to high prices of essential items. Meanwhile, the inflationary trends are at their peak once again and a latest report says that the prices of essential commodities have recorded a rise of up to 30 percent, which is a matter of serious concern. In this way, the over inflation on the weekly has also touched the same level year-on-year. Pakistan Bureau of Statistics (PBS) data says that Inflation has risen 0.48pc week-on-week basis and it can further worsen. On the other hand, the sudden rise in the prices of eggs, meat, pulses and chicken is also an issue. Prices of vegetables like onions, potatoes etc are also sky-rocketing. Overall, prices of nineteen essential items have shown inflationary trends. The short-term inflation as indicated by the Sensitive Price Indicator has touched a record high level of unprecedented 45.5pc in recent months. Latest report and surveys reveal that seventy per cent of the household budget is spent on kitchen items and only 30 per cent left to meet other expenses like utility bills, education, medicines. One liter Milk price is Rs220 per litre, curd for Rs260 per kg, whereas vegetables prices are also very high.
Published in The Daily National Courier, September, 18 2023
Like Business on Facebook, follow @DailyNCourier on Twitter to stay informed and join in the conversation.