PM says talks with Imran only possible if PTI Chief apologises publicly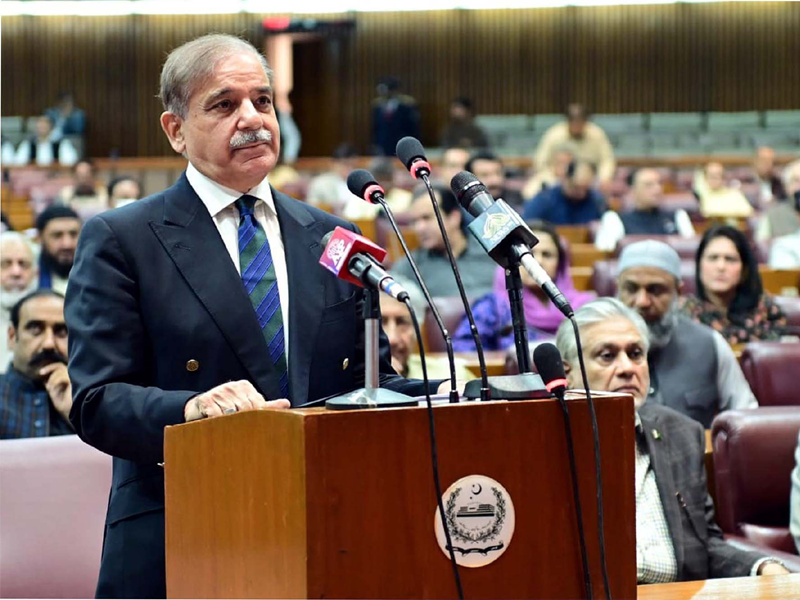 Karachi: In fiery address at National Assembly Prime Minister Shehbaz Sharif said he was of clear opinion that talks between government and Pakistan Tehreek-e-Insaf Chairman Imran Khan will only be possible if former premier admits his "Wrongdoings" and apologises to people for all things he has said and done.
Labelling Khan as "Fraud," he said that it was "Not possible to talk" with someone who had "Looted country, attacked judiciary and did not believe in Constitution and justice", until he publicly apologises to people and admitted to having caused damage to country and Constitution.
"I believe no discussions can be held with person who consistently and condescendingly rejects invitations for talks on everything be it Covid-19, state of terrorism in country, apex committee meeting or Kashmir conference," Shehbaz added.
"In democracy, we have no weapons, merely dialogue, PM said, emphasising that it was not possible to give in to Khan; "However, we are short on time." Shedding light on recent fiasco witnessed during court proceeding of PTI Chief, he said that certain "Favourite" does not appear before any court, no matter how many notices have been issued to him.
"He gets an extension in different courts in dark of night and makes a mockery of judiciary," he lamented, criticising Khan for his remarks against sitting woman judge and fact that no action has been taken in this case so far. "Khan made false cases against opposition when he was in government and signed an agreement with International Monetary Fund and violated it," he said listing down wrongdoings of PTI government. PM regretted that PTI Chief has been "Blackmailing judiciary through violent tactics", adding that Khan does not recognise law and Constitution and was not surrendering before courts.
Meanwhile, PM expressed his grief over death of umrah pilgrims who were killed in a bus accident in Kingdom of Saudi Arabia. Prime Minister expressed his sympathies with bereaved families and prayed for early recovery of injured, PM Office Media Wing said in press release. Prime Minister also prayed for departed souls. According to media reports, at least 20 umrah pilgrims died and 29 others were injured after a bus carrying them overturned, collided with bridge and caught fire in Aqaba Shaar in Asir region, according to KSA report.
Published in The Daily National Courier, March, 29 2023
Like Business on Facebook, follow @DailyNCourier on Twitter to stay informed and join in the conversation.