Time for judges to admit mistakes: CJP Isa
first time in country's history: Maiden live telecast hearing petitions against SC Practice, Procedure Act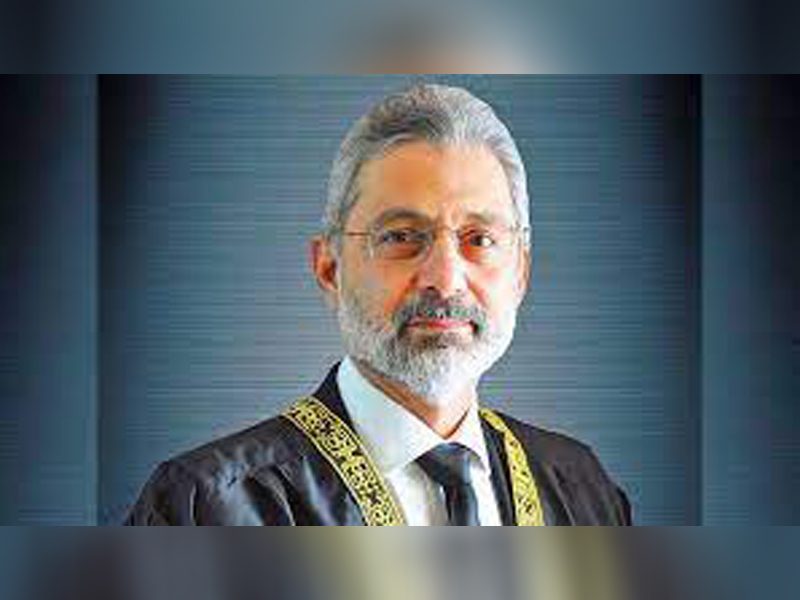 ISLAMABAD: Full court bench headed by Chief Justice of Pakistan Qazi Faez Isa is hearing review petitions [clubbed together] against Supreme Court (Practice and Procedure) Act, 2023-legislation introduced by former coalition government.
This is first time in country's history that hearing in case is being live telecast. New Chief Justice is hearing one of most important cases currently pending with Supreme Court on his very first working day.
CJP remarked that it was time for judges to admit to their mistakes. There have been judges who justified military takeovers, but nothing is above Constitution. We need to keep our egos aside and think about Pakistan, Justice Isa stressed. CJP further remarked that it is okay to do less work but it would be better if it is done within limits. Justice Qazi Faez Isa observed that Parliament SC (Practice and Procedure) Act 2023 was not an attempt to clip top judge rights by devolving suo motu powers to three-member committee. Chief Justice Qazi Faez is presiding over full court on first court day. 15-member full court includes Justice Sardar Tariq Masood, Justice Ijazul Ahsan, Justice Mansoor Ali Shah, Justice Muneeb Akhtar, Justice Yahya Afridi, Justice Aminuddin Khan, Justice Mazahir Ali Akbar Naqvi, Justice Jamal Khan Mandokhel, Justice Muhammad Ali Mazhar, Justice Ayesha Malik, Justice Athar Minallah, Justice Hasan Azhar Rizvi, Justice Shahid Waheed and Justice Musarrat Hilali.
Government requested apex court to reject petitions against Supreme Court Practice and Procedure Act. Government, taking stand, requested that petitions against act of Parliament were inadmissible, so theses should be dismissed. According to government reply, Parliament was empowered to legislate under Article 191 of Constitution and it did not prevent it from making laws. As hearing started, Khawaja Tariq Rahim started presenting arguments. Justice Ayesha Malik remarked that right to appeal had been given in Section 5 of Act in question.
"If we decide case on full court and declare law correct, how appeal would be made against it? She asked. Chief Justice remarked that 57,000 cases of people were awaiting justice. Justice Mandokhel remarked that Khawaja Rahim should read Article 191. Lawyer said power to regulate court belonged to Supreme Court under Federal Legislative List Schedule. Chief Justice said Supreme Court had its own authority to regulate its powers. "Are you saying that 1989 rules are in conflict with Constitution? CJP asked counsel.
Justice Muneeb Akhtar questioned that allowing three-member committee to have power of clause 3 of Article 184, was judicial power or an administrative one. Justice Muneeb raised question that if there was administrative authority, had Parliament abolished judicial authority? Justice Musarat Hilali asked if powers of Chief Justice had been clipped by this legislation. Justice Mandokhel inquired whether powers of Chief Justice had been withdrawn and powers of Supreme Court had been curbed. Justice Akhtar said don't he think that powers of CJP could be regulated only through constitutional amendment? Justice Shah said, "Do you mean to say that 17 judges can regulate powers of full court but Parliament cannot?" Khawaja Rahim replied he did not mean that.
Justice Isa explained court sought his arguments on invocation of Article 184(3), under which two primary points were to be established: that case was matter of public interest and it sought enforcement of fundamental rights. He said that had high courts have been moved on matter prior to SC and it had allowed pleas, then he could come to them in appellate jurisdiction. CJP remarked that phrase used in provision was 'all other courts', not SC. "So don't cite our own precedents to us. You are being asked constitutional question," he said. Justice Minallah then said that Parliament had diluted Chief Justice's discretionary powers.
It should be remembered that eight-member bench of Supreme Court had stopped implementation of Practice and Procedure Act on April 13.
Published in The Daily National Courier, September, 19 2023
Like Business on Facebook, follow @DailyNCourier on Twitter to stay informed and join in the conversation.