Trade imbalance and our agri sector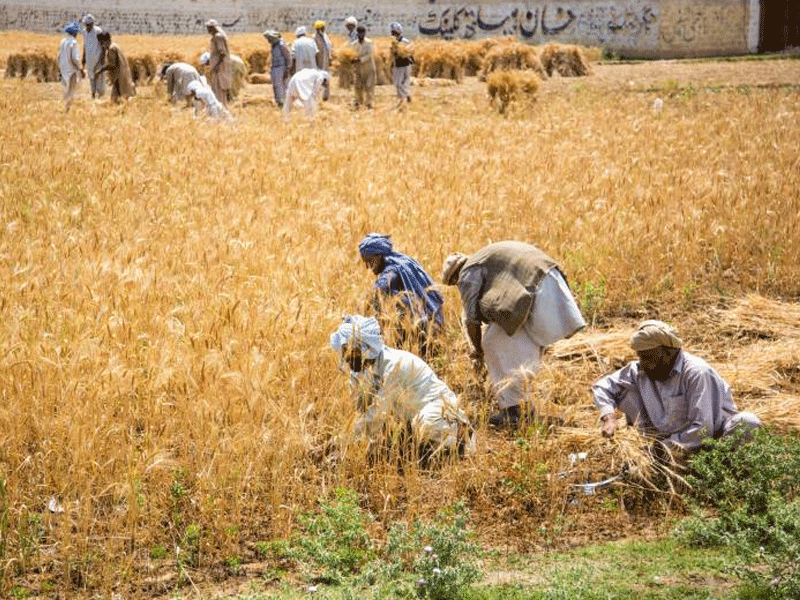 Pakistan's economy, suffering from trade imbalance, is currently limited to benefiting from the agricultural sector to the extent that it has to export a large part of its rice production instead of meeting its domestic needs. At present Basmati rice is being sold at an average of Rs 300 to 380 per kg domestically.
On the other hand, its demand has been increasing rapidly at the global level. According to the latest report, due to the extraordinary harvest this year, the export of basmati rice seems to reach 5 million tons compared to last year's 4 million tons, which will earn three billion dollars in foreign exchange.
Currently, Indian rice is banned in the world market for various reasons, one of which is that Basmati rice, which is produced only in Pakistan, India tried to cheat by giving this name to its production.
While India's position is that it has stopped its export to meet its domestic needs. According to the Rice Export Association of Pakistan, this year Mexico and Russia have opened their markets for the purchase of Pakistani rice. Indonesia, which was buying 90,000 tons of rice from Pakistan, has increased its demand by 200,000 tons. Although this is an encouraging situation for Pakistan, the local need of the country cannot be neglected.
In the past, Pakistan has been self-sufficient in wheat, rice, maize and cotton production, today it is forced to import them by spending a lot of foreign exchange to meet local needs.
Most of the countries with agricultural economy have revolutionized their production per acre thanks to science and technology. Pakistan also has its complete infrastructure including universities and competent scientists, which farmers should benefit from.
Pakistan is the seventh largest wheat producing country in the world. Despite record wheat production this year, flour has become beyond the reach of the poor man and now wheat is being imported from Russia. The nerve-wracking crisis of wheat in the country led to the compulsion to import it, costing the country a lot of foreign exchange and making the wheat exporting country one of the importers. The main reason why the situation has turned to this trend is that the profiteers and anti-social elements smuggle wheat by creating an artificial crisis under a well-thought-out plan and they are not dealt with iron hands.
The sensitive institutions have tightened the noose around hoarders and smugglers. It has been reported that in Karachi, one and a half billion worth of goods have been exported and private wheat importation has started.
The first ship bringing 55 thousand tons of wheat from Bulgaria has anchored in Karachi and two more ships bringing 100 thousand tons of wheat from Russia will reach Port Qasim by tomorrow. As soon as the imported wheat arrives, the open market of the country has started to decline and it is likely that the price of wheat will decrease in the next few days.
Importers of Punjab, Sindh have so far bought more than 750 thousand tons of wheat. It is expected that a total of more than 12 lakh tonnes of wheat will be imported by February 2024. Earlier also 55 thousand tons of wheat was imported from Russia. It is hoped that with the availability of imported wheat, active flour mills will no longer need to buy from the black market. From October 15, the supply of government wheat to flour mills will make a 20 kg bag of flour available at Rs 2,600 in the open market for Rs 2,750. Urgent measures for public relief are in place, but there should be arrangements to meet the shortage of wheat on a permanent basis.
Pakistan is primarily an agricultural country and its economy depends on agriculture, but due to poor policies of the governments, adverse natural conditions or misfortune, an agricultural commodity exporting country is currently forced to import wheat and food items as a result. The foreign exchange reserves have shrunk and the trade deficit has increased to an unsustainable level, the measures taken to control it are not working.
In such a situation, the determination of the Pakistan Army to contribute to the efforts to bring about an agricultural revolution in the country must be appreciated. The foundation of agricultural revolution has been laid with the inauguration of Model Agriculture Farm in Khanewal. Army Chief General Syed Asim Munir expressed his firm intention to get Pakistan out of the current economic crisis and said that the agricultural revolution will continue. No power in the world can stop us from progressing. With this announcement of the Army Chief, the morale of those who grow grain by ripping open the chest of the land will certainly be high.
These words of the Army Chief reflect the fact that security and economy go hand in hand because security is indispensable for economy and security for economy. Pakistanis are a proud and talented nation and the Pakistan Army is proud to serve its nation. We will create modern farms in the style of Khanewal model farms, which will be spread across Pakistan. This will lead to an agricultural revolution that will benefit small farmers. The practical manifestations of the determination expressed by the Army Chief are being seen in different parts of the country.
In this connection, the concept of model agricultural farms is the result of a revolutionary thought, which has been implemented from Khanewal. Millions of acres of land in the country are barren and uninhabited. By making it arable, Pakistan can revive its declining economy. Farmers are an example of hard work and perseverance. If they are provided modern facilities, they can produce gold from soil. It is good that many schemes have been announced in this regard. These include providing cheap fertilizers and loans on easy terms. There is no reason why the dream of agrarian revolution cannot be realized if the government coming after the elections continues to follow the farmer-friendly policies of the current government and improves them further. On the other hand, Political parties should consider agricultural development in their election programs and give importance to the advice and practical help of the military leadership apart from the agriculturists.
Published in The Daily National Courier, September, 22 2023
Like Business on Facebook, follow @DailyNCourier on Twitter to stay informed and join in the conversation.