2nd day ongoing Aaalmi Urdu Conference discusses '21st Saddi main Taqdeesi Adab'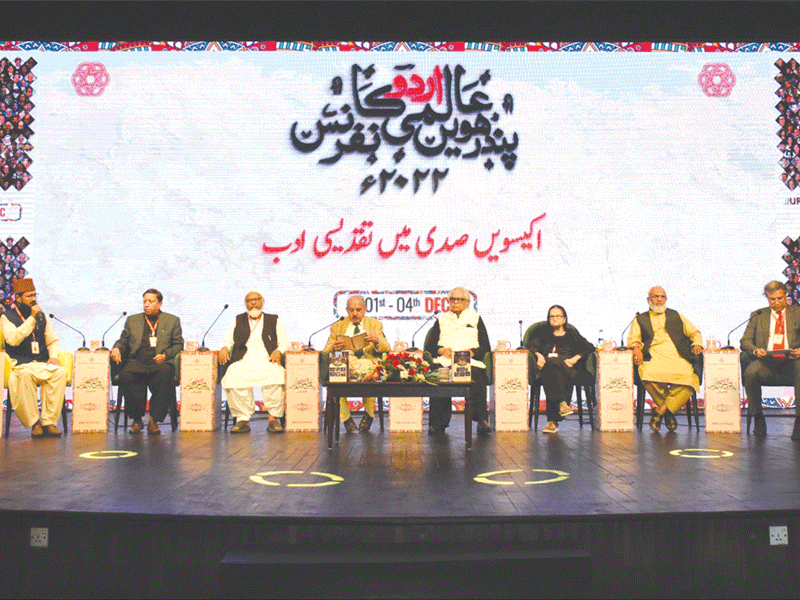 Karachi: Renowned poet and intellectual Iftikhar Arif on second day of ongoing 4-day Aaalmi Urdu Conference at Arts Council Karachi during third session '21st Saddi main Taqdeesi Adab said that in 20th century, thousands of poets of Hamdiya, Natiya and Marsia poetry were born and they ended criticism of West that religious poetry is not poetry.
It is very important for poetry to come down to standard of literature first. Whoever writes poetry and does not meet aesthetics. I do not consider him poet. He said that thousands of obituaries have been written in just fifty years, which genre has so much creativity, so poetry of Hamd, Naats and Marsia will live forever. Urdu language started with spiritual poetry, hamd, naat, marsia and its attributes will remain, but it is important to write poetry with aesthetics of literature and naat could remain in Urdu language.
Naats were also written in Arabic. Hazrat Abu Talib wrote first naat and Holy Prophet himself heard naats. Rizwan Hussain said that Allah and Prophet (PBUH) have guided Muslims lot in economic matters, halal sustenance was emphasised, debt was declared illegal, zakat was starting point of human service. It was stated. Principle of welfare state of Islam, which West is shining with today, we had this principle 1400 years ago.
This principle of Islam was implemented in state of Madina. Question was raised in Pakistan that banking system is legitimate or not, but welfare system could not be established in Pakistan. Muhammad Tahir Qureshi said that Urdu language poetry should be proud of Natia poetry. Qasida was given new dimension by giving it name qasida, qasida is similar to ghazal, but qasida retained its importance in Urdu poetry. Dr. Aqeel Abbas Jafari said that 21st century is century of technology. Marsia collection are available on website developed by name of E-Marsia.
In same website, there are 457 obituaries of Debir which have also been published in magazine. He said that Urdu ghazal and incident of Karbala are closely related, many books of poetry on incident of Karbala have been published in India. A great deal of work has been done on Naseer Amrohawi, many epitomists have done PhDs on obituary, and much work has been done on obituary in twenty-two years of 21st century. Farast Rizvi said that what Iftikhar Arif has written about Karbala and symbols of Karbala are completely covered in his poetry, it has been recognised all over world. This is great news for Pakistan. Nair Jalal Puri who is Head of Department of Lucknow University has written whole chapter on Iftikhar Arif in his book. He has said that since beginning of Urdu poetry in fifteenth century, Hamdiya poetry has been found and Hamdiya poetry has had prominent position in Urdu literature.
Dr. Aziz Ahsan said that literature transcends language and house, literature that is being created in 21st century will be influenced by 20th century, but even in 21st century, Naatiya and Hamdiya poetry is being created on large scale. Prophet (PBUH) was central in poetry. Azizuddin Khaki's Natia collection 'Ayat-e-Naat' was launched in this session.
Published in The Daily National Courier, December, 03 2022
Like Business on Facebook, follow @DailyNCourier on Twitter to stay informed and join in the conversation.