Indian statements on Gilgit-Baltistan: matter of serious concern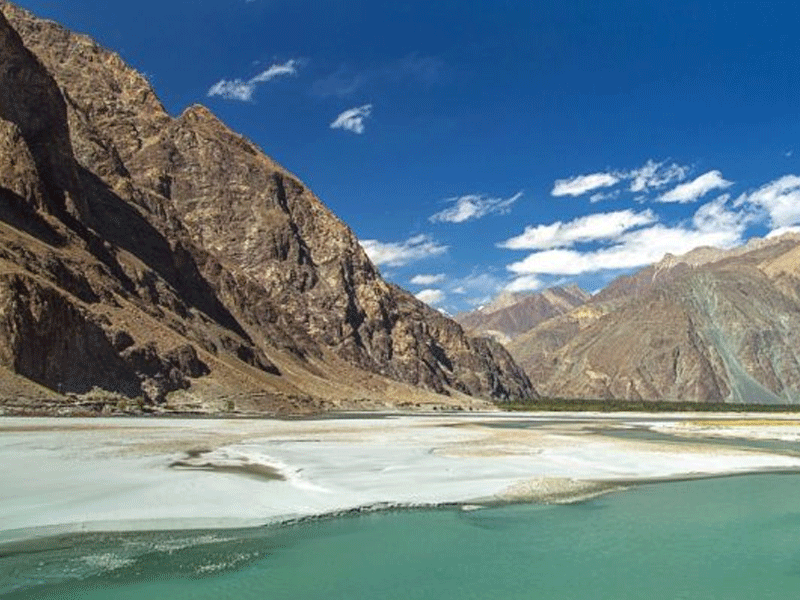 Indian statements on Gilgit-Baltistan: matter of serious concern The highly irresponsible comments of the Indian officials on Azad Kashmir and Gilgit-Baltistan are a matter of serious concern. In fact, these utterances fully expose the malicious designs of Indian mindset, which is hell-bent to spoil the peace of the entire region.
However, what they fail to understand is that Pakistan is fully capable to defend its territory so the Indian high command should think twice before issuing such irresponsible statements in future. These comments from the Indian politicians and Indian army command about GB are not only ridiculous but also a reflection on Modi's and his predecessors' expansionist mindset. However, it is welcome to note that the Pak Army high command has made it clear that "any misconception resulting into a misadventure will always be met with full might of our armed forces backed by a resilient nation."
Yes, the new COAS has also addressed the statements. A press release from the media wing of Pak Army, Inter Services Public Relations (ISPR) say that during a visit to frontline troops in the Line of Control's (LoC) Rakhchikri sector, the new COAS Gen Munir said the army had noticed "highly irresponsible statements" from the Indian Ieadership on GB and AJK recently. "Let me make it categorically clear, Pakistan's armed forces are ever ready, not only to defend every inch of our motherland, but, to take the fight back to the enemy, if ever, war is imposed on us," the press release quoted him as saying.
The irresponsible statement by the Indian politicians and their Army high command fully expose the so-called claims of India which boast to be the world's biggest democracy. These ridiculous statements of Indian people also signify tough times ahead for the minorities in India. It has become clear that India is an usurper which has nurtured hegemonistic design regarding annexing other countries' territory.
It is also an authoritarian state which has also been acknowledged at world level as is evident from the recent data released by the Swedish V-Dem Institute, which included India among the list of states, which are fast tilting towards authoritarianism. The irresponsible statements have also set the alarm bells ringing for the Indian minorities, especially Muslims who are on the Radar of Modi's fanatic goons. Here one may recall the recent fanatic moves by BJP and its like-minded groups who targeted the India Muslims.
Earlier this year, a Muslim girl Muskan was heckled for wearing hijab while the Hindutva's fanatic and extremists had directed students of Kariappa College in Madikeri, Karnataka to go to college wearing saffron shawl. The two standards expose the double standards of the Indian authorities, who are a silent spectators to the plight of millions of Muslims, who are reeling under the effects of the Hindutva mantra. It may be mentioned here that the local authorities of Karnataka, which is ruled by RSS fanatics and where 12 per cent of the population consists of Muslims, last month had ordered the students to follow a particular dress codes which also include a ban on hijab.
This was in continuation of the plans of the Indian fanatics who in December last year chalked out a plan to wipe out Muslims. Yes, on December 26, there was call for genocide of Muslims in India, when leaders from several far-right groups in India met on Dec 26, calling for the ethnic cleansing of minorities mainly Muslims in the country. Their main target is 200 million Indian Muslims indeed. It's not that Dalit and other minorities are safe in India but Muslims bear the brunt of the situation.
The Hindutva leader Yati Narsinghanand, in his "hate speech conclave" in city of Haridwar, had made specific calls for ethnic cleaning of minorities and to damage their worship places. That PM Modi kept a mum on the issue and did not initiate any action against extremist Hindutva groups, means that he is patronizing these groups which are calling for genocide of minorities in the country.
"Like Myanmar, our police, our politicians, our army and every Hindu must pick up weapons and conduct a safayi abhiyan (ethnic cleaning).....," Swami Prabodhanand Giri, president of the Hindu Raksha Sena, was quoted to have said. Similarly, a leader of Hindu Mahasabha Sadhvi Annapurna, also incited ethnic cleaning of minorities in India by giving a call to arms and genocide. Not only the BJP was silent on the issue but it was reported that some BJP leaders also attended the programme where the call for ethnic cleaning was given which means that the ruling BJP gave the event a political encouragement, exposing the "extremist ideology" of the ruling BJP government.
In fact, it is Modi's innate desire of hegemony and its continued occupation of Jammu and Kashmir in contravention of the UN resolutions. Modi's regime since its coming power in 2014 has adopted a hostile behavior towards Pakistan and the Muslims in India. Whether it is the Assam state or the occupied valley of Kashmir or for that matter any part of India, Muslims are being subjected to all sorts of discrimination and torture. India is so deep in its fanatic thinking that it has even mingled sports with politics.
The above facts are enough to indicate that Muslim are enough to prove that Indian Muslims are being harassed to the point that they do not feel safe and even their lives are in danger. Those who post pro Pakistan comments on social media are also taken into custody for committing an offense of cyber terrorism under India's IT act, while the charge of sedition is added before they appeared before the magistrate in court.
The way the hardliner Modi men have lost their minds after coming power is a reflection on the so-called Indian claims to be the world's biggest secular state. India is the worst place for minorities mainly Muslims in the world where Muslims are not only denied basic rights but also subjected to all sorts of humiliation, violence and even murdered at will. Their main target is the estimated 200 million Indian Muslims population, which is being targeted and victimized at will. Time has come world should take note of the Indian authoritarian stands and its irresponsible statements regarding annexing Gilgit-Baltistan.
Published in The Daily National Courier, December, 05 2022
Like Business on Facebook, follow @DailyNCourier on Twitter to stay informed and join in the conversation.