International Day to combat Islamophobia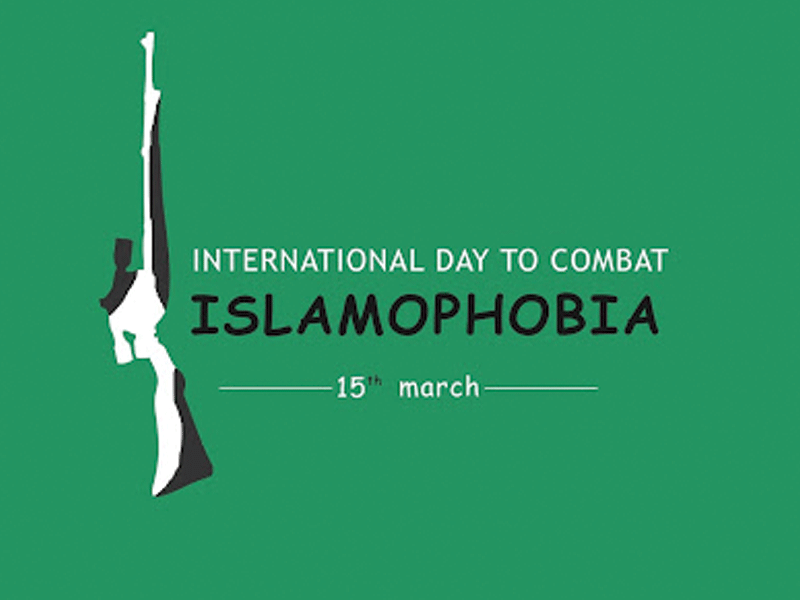 Often, non-Muslims are incited against Islam and poisoned against Islamic teachings to create hatred against Islam and Muslims in their hearts, due to which fear of Islam enters their hearts, which is called Islamophobia.
Recognizing Islamophobia as a crime, the United Nations designated March 15 last year as the International Day to Combat Islamophobia. The decision to mark this day was taken after the approval of the resolution presented by Pakistan and the OIC.
In the resolution, it was said that the desecration of the Holy Qur'an, the profane sketches of the Holy Prophet (peace be upon him) and insulting words about Islam are not only hurting the feelings of Muslims, but discrimination is also being allowed through Islamophobia. The United Nations needs to take action against those targeting Muslims. The International Day Against Islamophobia was celebrated for the first time on March 15. And actions against Islamophobia were reiterated at the ceremony. On this occasion, the Secretary General of the United Nations, António Guterres, emphasized that measures must be taken to end hatred against Muslims at the global level. Discrimination can destroy us all, we have to stand up against it. The purpose of celebrating this day is also to eliminate the poison of anti-Muslim sentiments and hatred against Muslims. In this connection, the OIC statement which was read by Pakistan's UN Ambassador Munir Akram on OIC's behalf at international platform in June last year was widely welcome as it represented the true sentiments of the Muslims.
Last year, the world community observed the On June 18 and commemorated it as the first ever World day for combating and countering hate speech in pursuance of a grand and commendable resolution passed by the UN General Assembly. And joining the World community efforts against Hate Speech, Pakistan Permanent Representative to the UN, Mr Munir Akram rightly highlighted this grave issue saying that the OIC "remains concerned about willful provocations and defamation of Islamic holy personalities and religious symbols." In this high commendable statement, the OIC demanded that all "willful provocations and incitement to hate and violence must be universally outlawed." There is no denying that those Muslims, who are in minority in many countries, have been passing through times in the post 9/11 situation where they face discrimination, hatred, bullying and deprivations in almost fields of life. They are being victimized for the sins of handful fanatics, who were involved in the terrorists' activities. It ought to be mentioned here that fanatics and terrorists are found everywhere in all societies but to equate them with the entire community and making the entire community to pay for the sins of the few fanatics is not justified and is totally inhuman.
In this backdrop, the observation of the Anti-Muslim hatred day is good augury as it is being observed after the United Nation last year finally declared March 15 as anti-Islamophobia day which was a landmark resolution introduced by Pakistan on behalf of the OIC designating 15 March as 'International Day of Combat Islamophobia". This much-needed resolution was sponsored by as many as 57 members of OIC, and eight other countries, including China and Russia. The adoption of such a resolution had become necessary due to the wide spread acts of Islamophobia in the US, Canada, France and other states where Muslims are in minority and are being victimized for being Muslims. Muslims communities the world over have had to face not only verbal abuse but also physical violence because of their religious background. Last year, at the UN, Pakistan's permanent representative to the UN, Ambassador Munir Akram, had told the UNGA, on behalf of the OIC, that Islamophobia is a reality, its manifestations, hate speech, discrimination and violence against Muslims are proliferating in several parts of the world, Such acts of discrimination, hostility; and violence toward Muslims individuals and communities constitute a grave violation of their human rights and violate their freedom of religion.
As a matter of fact, voices against Islamophobia are being raised at various platforms at global level. In January last year, the Canadian Prime Minister Justin Trudeau had, while deploring Islamophobia had pledged to make Canada a safer place for Muslims and one would really appreciate his stance as it was due to such strong voices that things have started changing for good.
Not only this, the Canadian government had also announced its plans to declared January 29 a National Day of Remembrance of the Québec City Mosque Attack and Action against Islamophobia last year. Moreover, the Russian President Vladimir Putin in recent times denounced Islamophbia in clear words, stating that insulting a prophet (Peace Be Upon Him) does not count as freedom of expression. This was rather a "violation of religious freedom and the violation of the sacred feelings of people who profess Islam,", Putin was quoted to have added.
Moreover, the US also passed bill calling for the appointment of a special envoy to monitor and combat Islamophobia.
It was sponsored by two Democrats i.e. one Muslim lawmaker Ilhan Omar and the other Jewish Representative Jan Schakowsky.
That Republic resisted the passage of this Bill speaks volume of the situation with regard to polarization on the issue.
In the post 9/11 scenario, Islamophobia emerged as biggest threat to Muslims around the globe and it affected their lives in a big way in almost all spheres of lives from discrimination in education, jobs, migrations, politics, and even their daily routine was disrupted by hate speeches and discriminatory remarks and behavior by people all around them. It may be mentioned here that every society has some fanatics which can be gauged from fanatic activities across the globe by people from different origins and religious backgrounds, but those acts by few fanatics should not be equated with the peaceful acts of the entire communities. In the case of Muslims, the peaceful, hardworking and law abiding citizens were also being victimized for the acts of few fanatics which is not justified in any way. Time has come world should adhere to the UN-adopted resolution to advance mutual respect for Muslims and all cultures, traditions and religious beliefs.
Meanwhile, the Prime Minister Shahbaz Sharif has also said in his tweet that Pakistan stands with the international community to end all forms of hatred and discrimination against Muslims on the basis of faith. After the 9/11 incident, the word Islamophobia was frequently used, due to which Islam and Muslims were propagated as a terrorist group in the western world. As time, the difference between terrorism needs to be clarified.
Published in The Daily National Courier, March, 18 2023
Like Business on Facebook, follow @DailyNCourier on Twitter to stay informed and join in the conversation.