Dr. Ziauddin Hospital organises awareness seminar to commemorate World Hepatitis Day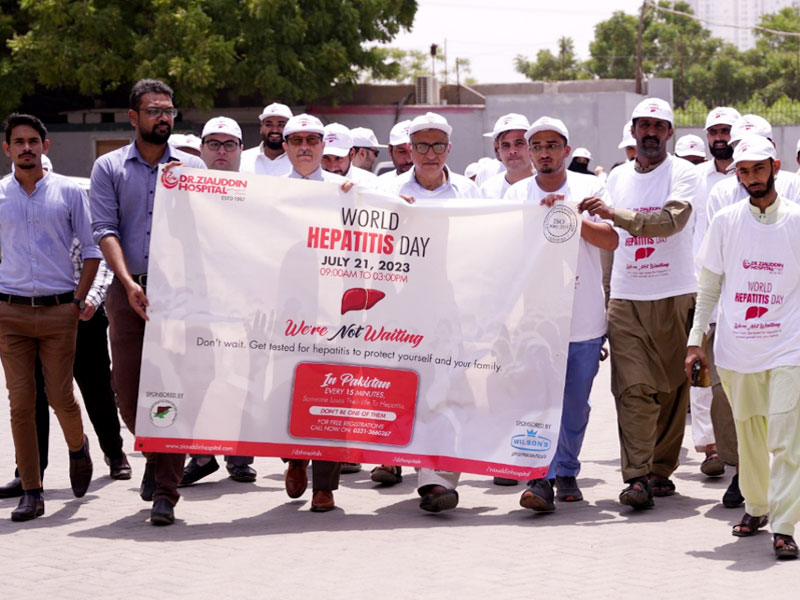 Karachi: "It is our duty to raise awareness among public about importance of seeking treatment before disease becomes threat", said Dr. Zulfiqar Dharejo Additional Director of CDC Hepatitis Control Programme Sindh. Speaking audience as chief guest at awareness seminar to commemorate World Hepatitis Day, organised by Dr. Ziauddin Hospital, purpose of event was to raise awareness about global impact of hepatitis infections and importance of early detection and prevention measures, knowledge about disease, its transmission and available treatment options and shedding light on pressing issue of viral hepatitis. "Sindh government is actively engaged in providing free vaccines and treatments for hepatitis and our relentless efforts to protect our nation and save lives. Rest assured, we are putting forth our best endeavors to safeguard our country from impact of this disease", Dr. Dharejo stated. Prof. Dr. Abbas Zafar Dean Faculty of Health Sciences Ziauddin University said that better treatment is possible only with early diagnosis. For this, it is important to consult doctor for any unusual changes in yourself and urge everyone to get tested for disease. We are fortunate to not only have an effective hepatitis B vaccine, but also access to possible treatments.
"We are also proud to sign memorandum of understanding with Sindh government. Let us support each other in such efforts to fight hepatitis and ensure healthy future. Ziauddin University and Dr. Ziauddin Hospital are actively promoting public awareness about hepatitis", he further stated. While highlighting reasons for spread of hepatitis Prof. Zaigham Abbas Head of Department Hepatology and Gastroenterology Ziauddin University said that Hepatitis B and C are mainly blood-borne diseases, spread by infected blood and body fluids. Transfusion of infected blood, using syringes or surgical equipment previously used by hepatitis-positive patient, lack of sterilisation facilities and quackery are main sources of spread. In Pakistan, an average person receives 10 injections per year of which 90 percent are avoidable and remain non-essential. Let us unite in safeguarding our future generations, preventing mother-to-child transmission and promoting responsible sexual practices to combat hepatitis B. Hepatitis D virus may super infection hepatitis B patients resulting in an aggressive form of hepatitis. Lack of awareness about complications has resulted in disease being labelled 'silent killer' and 'black jaundice'.
Discussing establishment of WHO, Dr. Khurram Baqai Assistant Professor of Gastroenterology Ziauddin University highlighted that an estimated 4.5 million premature deaths could be averted in low and middle-income countries by 2030 through implementation of vaccination, diagnostic tests, medicines, and education campaigns. Globally, Pakistan bears heaviest burden of hepatitis C, with nationwide prevalence exceeding 5 percent (10 million cases), primarily concentrated in Punjab followed by Sindh, KPK and Balochistan.
According to Dr. Fatima Jehangir Chair of Department of Family Medicine at Ziauddin University "Prevention strategies for hepatitis A and E involve regular handwashing with soap and water, consumption of clean and properly cooked food and availability of vaccinations for Hepatitis A, particularly for travelers to endemic areas. Additionally, vaccines for hepatitis E are now also accessible.
Published in The Daily National Courier, July, 22 2023
Like Business on Facebook, follow @DailyNCourier on Twitter to stay informed and join in the conversation.