Pakistan's lineup for FIFA WC 2026 Qualifiers against Saudi Arabia unveiled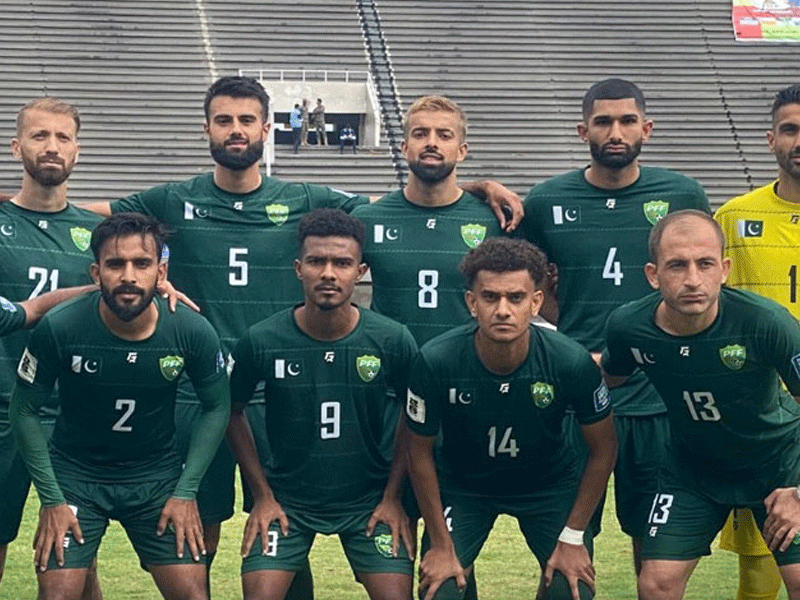 AL AHSA: The Pakistan Football Federation (PFF) unveiled Pakistan's lineup for the upcoming FIFA World Cup 2026 Qualifiers against the Kingdom of Saudi Arabia. Pakistan, who will feature in the second round of the FIFA World Cup Qualifier, will be lead by Otis Khan while their hero of the first-round victory over Cambodia, Harun Hamid, has been benched. Yousuf Butt will serve as the goalkeeper and will be supported by four defenders Umar Hayat, Mamoon Moosa, Abdullah Iqbal and Junaid Shah.
Pakistan's lineup features two midfielders Alamgir Ghazi and Rahis Nabi while the skipper will lead the four-man attack, comprising Shayek Dost, Abdul Samad and Fareed Ullah.
For the unversed, their highly-anticipated clash against Saudi Arabia will mark their first appearance in the second round of the Asian Qualifiers. On the contrary, Saudi Arabia is one of the most dominant side of the continent, having played six FIFA World Cups. The West-Asian side also upset Lionel Messi's Argentina in last year's World Cup.
The second-round fixture between Pakistan and Saudi Arabia will be played here at the Al-Fateh Stadium. The match starts at 7:30 pm local time or 9:30 pm Pakistan Standard Time (PST).
Pakistan last played against Saudi Arabia in 1978 at the latter's home and suffered a 6-0 thrashing. Besides Saudi Arabia, Pakistan, placed in Group G, will face Jordan and Tajikistan. Each team will take on the rest of the teams twice on the basis of home and away leg.
The top two sides will then proceed to the third round of the FIFA World Cup 2026 Asian Qualifiers. Whereas, the bottom two sides will advance into the third round of the 2027 Asian Cup Qualifiers. Pakistan head coach Stephen Constantine earlier this week acknowledged Saudi Arabia as a tough opponent but expressed his hope of doing well against them. "There is no doubt that Saudi Arabia are a tough side and we will try to make our best effort against them," stated Constantine. "We had a few good days here and a week at Islamabad and hopefully we will put in our best," he added.
Published in The Daily National Courier, November, 17 2023
Like Business on Facebook, follow @DailyNCourier on Twitter to stay informed and join in the conversation.