Plight of Pak migrant workers abroad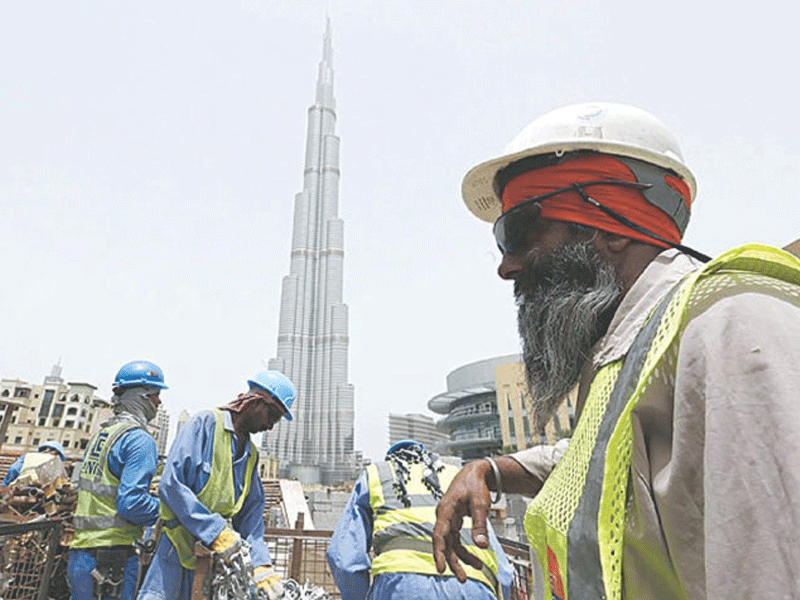 The news regarding the pathetic conditions of migrant workers in Qatar has once again brought to fore the plight of migrant workers including Pakistani workforce abroad.
There is no denying that Pakistani migrant workers in the Gulf estates including the Saudi Arabia, UAE, Qatar etc are not paid according to international standards. Their exploitation is a known fact. Not only they are meagerly paid, a large number of them are languishing in jails for petty charges.
In fact it is a deeper malaise. Hundreds of thousands of Pakistani workers flock to Gulf and other states in bid to secure jobs and feed their familites back home, but for many of them, it is a nightmare experience. Time has come we must value the expat workers who remit money back home in a record number and pay heed to their issues in real sense of the word.
The remittances sent by overseas Pakistani back home are the backbone of our economy as they are the main source of foreign exchange, but the rewards for these migrant workers are almost nonexistent, which is a matter of serious concern.
Though the remittance back home have always continued a strong momentum, but they have touched a record high during last year which is a happy augury in these testing times marked by spread of corona and its various variants that shook the world's economies. According to the report of Migration and Development Brief, the remittances touched a level of $33 billion last year with a huge growth at 26 per cent, which is unprecedented in nature.
Globally, our country is the fifth highest recipients of foreign remittances and with the passage of time, the growth is gaining further momentums as now there is also a shift in workers attention from Gulf states to other sophisticated abodes and markets like Canada, US and the France as well. European countries like Germany, Spean and South Africa are also attracting a good number of our work force.
It ought to be mentioned here that the just concluded third quarter of 2021 also saw a mammoth rise in Remittances in Pakistan as they reached to 8035 USD Million from 7957 USD Million in the second quarter of last year. So they are rising by each quarters and the year 2022 is also eyeing a record rise in this connection. The State Bank of Pakistan (SBP) has also admitted the overwhelming contribution of expat workings, saying in its report that with inflows of $2.7bn in remittances in September, workers' remittances are in upbeat flow.
In this backdrop, the expat workers are the backbone of our economy but unfortunately the issues being faced by overseas Pakistanis are not taken seriously by the successive governments in Pakistan.
Recently, the govt launched 'FM Portal' for overseas Pakistanis to come to terms with the issues of Pakistani diaspora living in over 186 countries to help them and provide them quick fixes to their problems. However, till now the details and subsequent working of that app has not been publicized as to how helpful this app is in redressing the issues of these migrant workers. One thinks this is a just an eye-wash to publicize the government show and nothing more.
Though Pakistani report problems from over the world, but those working in the Gulf states are the most vulnerable section of our labour force abroad as they are not only frequently exploited at but are subjected to harsh treatment to the extent that thousands have been languishing in jail in these states.
As par latest reports, an estimated 7,400 Pakistanis are currently in jails in Gulf states, our of these three thousands are in Saudi jails, with no proper legal help being provided to them by the counsellor corps and Pakistani missions abroad. Majority of these jailed workers comprise poor and unskilled workers and their families back home also live in piles of poverty so they are unable to get any help either from their families back home or the Pak missions abroad.
The government also recently trumpeted the working of Commission established to listen and redress the complaints the issue of overseas Pakistan but to no avail.
Saudi Arabia is biggest destination of Pak workers in Gulf States as it is providing work to around 2.6 million Pakistani citizens, followed by the UAE which is hosting 1.2 million. In this way, these two Gulf States are absorbing around 96 per cent of our total work force in the Gulf states. Other countries like Qatar, Oman, Kuwait and Bahrain are also attracting the Pakistani workforce and currently they are making up another 0.6 million. Overall, four million Pakistani expatriates are working in Gulf Cooperation Council (GCC) states.
These are the registered workers comprising both skilled and unskilled work force while the actual number must be high as many make to outer countries through illegal channels as well. Ministry of Overseas Pakistanis and Human Resource Development data has revealed that over fifty per cent percent of these overseas workers are hailing from Punjab, followed by KPK with 26 percent and a sizeable 9.5 percent from the Sindh province. Majority of them are engaged in low-income jobs like labourers, welders, masons, carpenters, plumbers, or farmers, gardeners etc. When landed on jails on various charges, they have no one to pursue their cases and are totally at the disposal of the host country's legal procedures. They remain in jails for months without their cases being taken up. Some even don't know the charges they are implicated in.
While drug and theft charges are the main against Pakistan prisoners abroad, thousands land in jails on petty issues as well. And it is this latest categories which also face severe treatment and years of imprisonment for things which can be sorted out in few hearing but since there is no one to pursue their cases, hey languish in prisons for years.
Published in The Daily National Courier, November, 24 2022
Like Business on Facebook, follow @DailyNCourier on Twitter to stay informed and join in the conversation.