Child marriages in our society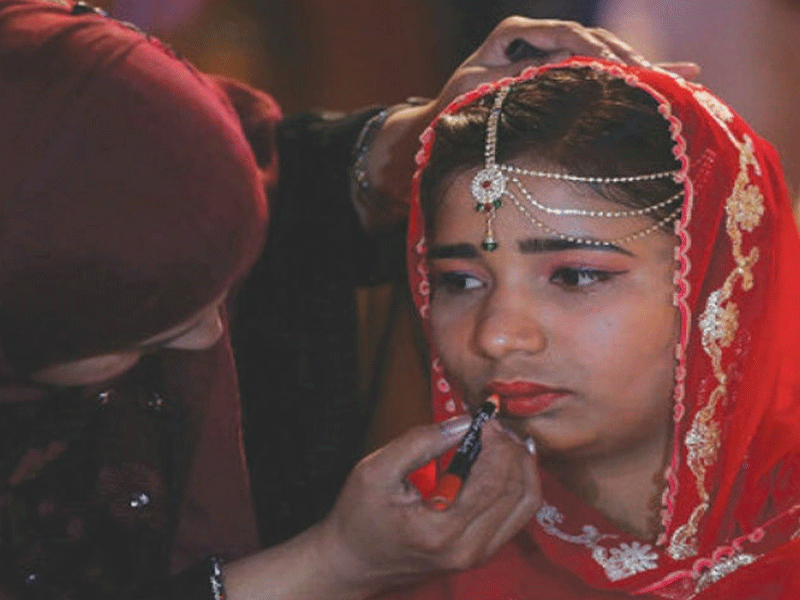 In a welcome move, the Federal Shariat Court (FSC) has taken notice of the child marriage incidents in Balochisan province. Yes, taking suo motu notice of the marriage of a minor girl, 6 years of age, the court has asked the provincial government for a report on these heinous practices. This indeed is a welcome move as Balochistan is known for practices of child marriage . According to recent report, 21pc underage marriage of women take place in the province every year. Estimates show that women of up to 25 years of age in the province are married before their 18th birthday, the legal age for marriage and getting CNIC.
In this backdrop, it is welcome that an FSC bench consisting of Chief Justice Dr Syed Mohammad Anwer and Justice Khadim Hussain M. Shaikh an application concerning the underage marriage of a girl which is just six years old. The case has brough into light the pathetic state of girls in the province where they are married off before eighteen years of age.
The bench has also sought a detailed report about the legislation regarding child marriage and other steps aimed at preventing this practice.
The irony is that Balochistan's child marriage bill has been in doldrums for about a decade due to dilly dally by the legislature. As a matter of fact, the child marriage in Balochistan and the recent Dua Zehra's case in Sindh has highlighted the issue of child marriage in our society. Even if Zehra's age was between 16 and 17 as claimed by the medical reports, she fell within child categories as Sindh has set the legal age for marriage at 18 and she hails from Sindh.
However, in Balochistan there is no such law and it is need of the time to legislate on this issue so that this practice can be wiped out. In fact, Sindh has formally criminalized underage marriage since 2013 and both girls and boys under 18 years of age are not allowed to marry off out of their free will under the Sindh Child Marriage Restraint Act (SCMRA), 2013. So this aspect of the case also needs to be given a thorough consideration.
In Punjab the legal age for a girl to marry is 15 but then she is from Sindh as rules of this province do apply to her and not that of Punjab. The case of Dua Zehra brought to fore the contradictions within our legal systems within the state institutions procedures and way of working. There are no uniformed rules and regulations and even the laws are not uniformed and their interpretation is also not the same at provincial level. Due to ambiguities in such cases, the role and responsibilities of the state institutions increase and it is their prime duty to save such children as they stand exposed to various dangers due to the existing flaws within the judicial system and within the legal proceedings and framework as also the contradictions within the laws itself.
One would agree with the recent UNICEF report which has revealed that Pakistani children are vulnerable to many forms of violence, exploitation and child trafficking. UN reports say that there are an estimated 3.3 million Pakistani children who are lured and trapped in child labour. It also says that a quarter of young women are married before attaining the age of 15, and 31 percent before 18 years of age. In the wake of the above-facts, it becomes necessary for the state institutions to give a sympathetic hearing to the plea of child marriages.
It is time we should improve the child protection system in our country so that cases like Dua Zehra and that of girl child plight are handled properly by the government authorities and institutions.
The plight of girl child is common in all the provinces inlcuidng Gilgit-Baltistan where the suicide rate among young girls is very high and which is being attributed to forced marriages of girls along with other factors.
There are also some other studies like the one done by the Aga Khan Rural Support programme which conducted a study on the subject in 2008 and it had found that as many 28 women committed suicide in a single year. To find out the main problems that prompt women to jump into rivers so frequently, more studies are needed to determine the real causes behind this heinous practice.
One way to do so is to talk to the survivors of attempted suicide cases, who can narrate the ordeals due to which they had attempted to end their lives. Sometime back, an NGO working in the area used this method and talked to one Naghma Pari, a survivor of attempted suicide, This 21-year-old girl hailing from a small village in Lower Chitral had disclosed that it were mainly the economic miseries which prompted her to make an attempt at her own life. She also disclosed forced marriages to be a reason behind such cases. So the practice of forced girls marriages is rampant in our society and stringent efforts are needed to eradicate this practice.
Published in The Daily National Courier, November, 23 2022
Like Business on Facebook, follow @DailyNCourier on Twitter to stay informed and join in the conversation.