PM asks exporters to think of innovative ideas for boosting exports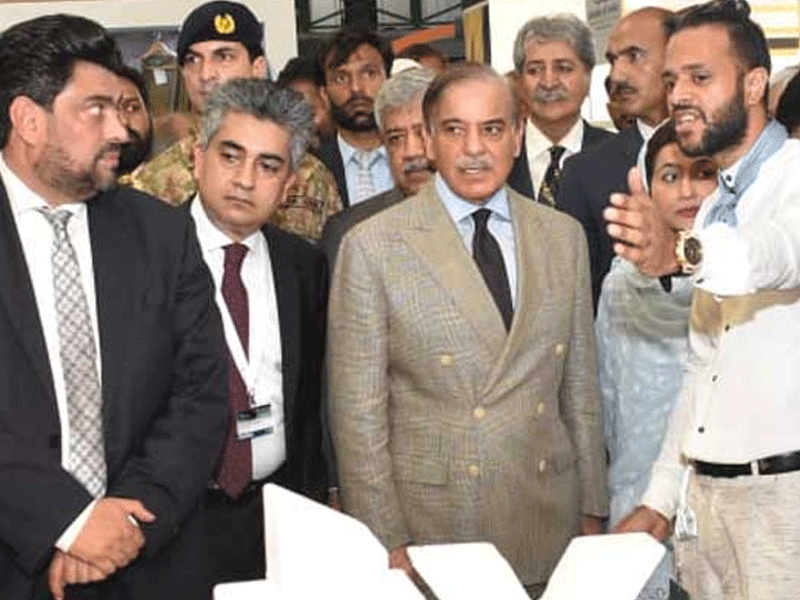 KARACHI: Prime Minister advised country's exporters to come up with innovative and unique ideas to boost exports to help country earn valuable foreign exchanges.
Addressing ceremony of Textile Expo here Prime Minister said that large number of foreign investors is participating in Expo. Now foreign investors feel happy to come in Pakistan. He said, pre-budget meeting will start on next week. He said that textile sector of Karachi accounts for 60 percent of country' export.
"Despite various challenges, we have very robust, very futuristic and extremely hardworking entrepreneurs that have gradually built Pakistan's export culture." With genuine government support combined with entrepreneurs' extraordinary intellect and hard work, he said that provision of quality export goods to foreign customers would be ensured.
Welcoming foreign delegates, PM said he was happy to learn that over 400 foreign delegates from 60 countries were visiting on occasion showed Pakistan was valuable destination for foreign guests, buyers and traders.
PM appreciated industrialists, exporters and experts who had contributed immensely to promoting Pakistan's textile and leather exports.
He said Pakistan's industry had now been transformed and converted to air jet looms, ginning, spinning and weaving.
Premier said that Commerce Minister Syed Naveed Qamar, Secretary of Commerce Sualeh Ahmad Faruqui and Trade Development Authority of Pakistan Chief Executive Zubair Motiwala had done commendable job by arranging this expo, which would help promote country's exports.
PM said textile sector constituted 60 percent of total exports, while 40 percent labour force was absorbed in this sector. "It is no doubt one of largest sectors of Pakistan's economy," he added.
He pointed out that despite financial challenges and other difficulties, government was committed to providing genuine support to all export sectors including textile, leather and sports to help increase country's export volume.
He recalled that few decades ago, Pakistan was ahead of its neighbours in textile exports however, unfortunately, it lost grounds.
"But I have no doubt in mind that we can still recover from these setbacks and take hands off clock back to 1990s and excel in our exports," he said adding that Naveed Qamar, its team and Finance Minister combined could turn table.
PM said Naveed Qamar had put in place national compliance cell which was need of hour and "We are obviously grateful to European Union for GSP plus status and again I am aware of fact that all reviews have been done and we respect all international requirements in this behalf whether it is good governance, human rights or any other requirement."
He maintained that government believed in rule of law and merit and come what may, government would toe line of Constitution and policies.
Commerce Minister Qamar said Pakistan offered numerous opportunities for investment to foreign investors.
He stressed need to provide more incentives to exporters to boost country's exports. He assured government's full support to entrepreneurs ensuring provision of conducive environment for them to not only build up country's foreign exchange reserves but also to lessen their dependence on international lenders.
Prime Minister Muhammad Shehbaz Sharif visiting different stalls in Textile Expo (TEXPO) 2023. pic.twitter.com/QFRvLnpKku

— Government of Pakistan (@GovtofPakistan) May 26, 2023
Published in The Daily National Courier, May, 27 2023
Like Business on Facebook, follow @DailyNCourier on Twitter to stay informed and join in the conversation.