Hamas repels Israeli ground attack near along Gaza Border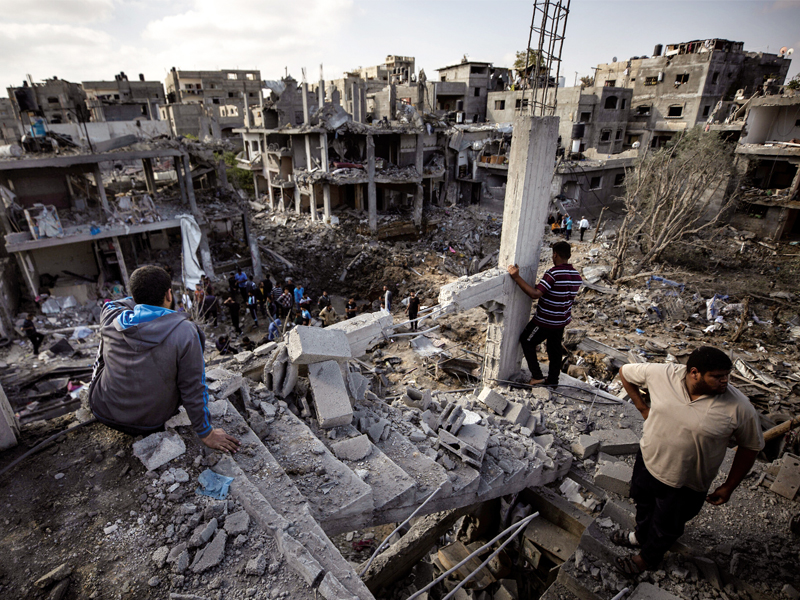 Gaza: Hamas has claimed to repel ground attack launched by Israeli occupation forces near Khan Younis along Gaza Border in which one Israeli soldier was killed.
An Israeli ground attack was repelled by Hamas' military wing al-Qassam Brigades near Khan Younis, according to Al-Jazeera.
An Israeli tank and two bulldozers were destroyed after it crossed border by few metres, al-Qassam Brigades said in statement on Telegram. It added that fighters bravely engaged with infiltrating force and safely returned to their bases.
However, there has been no official statement from Israel so far. In another development, Israel's military admits one of its tanks accidentally hit an Egyptian position outside Gaza Strip.
It is noteworthy to mention here that convoy of 17 trucks has brought vital humanitarian aid to Gaza through Rafah crossing. At least 266 Palestinians have been martyred in Israeli air attacks on Gaza in last 24 hours.
Israel confirmed that it struck masjid in Jenin refugee camp in occupied West Bank, with Palestinian medics reporting at least one person killed. At least 4,651 Palestinians have been killed in Israeli attacks on Gaza since Hamas attack inside Israel with more than 14,000 wounded. More than 1,400 people in Israel have been killed. Earlier, Israel heavily bombarded Gaza overnight after warning it would intensify strikes ahead of ground invasion, as war entered its third week on Sunday.
As fears mount of wider conflagration, Pentagon said it was bolstering its forces in Middle East to "Assist in defence" of US ally Israel amid "Escalations by Iran and its proxy forces" across region.
First trickle of aid entered besieged Gaza Strip on Saturday, but 20 trucks permitted to cross were described as "Drop in ocean" given "Catastrophic" humanitarian situation for 2.4 million people. It was worst attack on civilians in Israel's history and coincided with end of religious holiday of Sukkot.
Retaliatory bombing campaign has killed more than 4,300 Palestinians, mainly civilians, according to Hamas-run Health Ministry and reduced swathes of densely populated Gaza to smouldering ruins.
More than 40 percent of all Gaza's housing has been damaged or destroyed, according to UN citing local authorities and Israel has halted delivery of food, water, fuel and electricity.
Israel has massed tens of thousands of troops around enclave for widely predicted ground invasion. It says its daily raids have already killed many Hamas leaders and military commanders.
Published in The Daily National Courier, October, 23 2023
Like Business on Facebook, follow @DailyNCourier on Twitter to stay informed and join in the conversation.