Nazimabad's newly constructed road named after founder Dr. Ziauddin Hospital Dr. Aijaz Fatima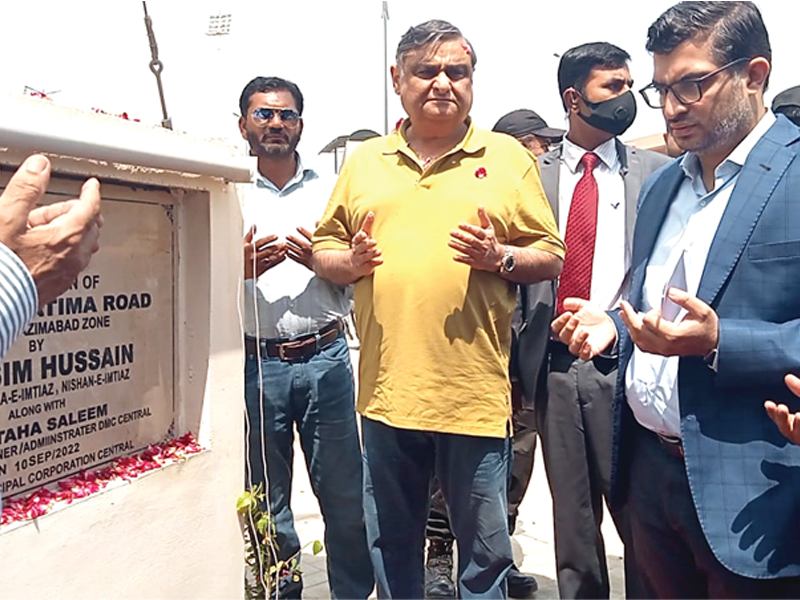 KARACHI: Leader of Pakistan Peoples' Party and former Advisor Petroleum Dr Asim Hussain inaugurated 650 meters long road at Nazimabad No 3 near S.M Public School along with Deputy Commissioner and Administrator Central District Taha Saleem.
In past also, Dr Asim Hussain inaugurated various projects in central district. The motive of naming the road after national heroes and prominent figures is to pay rich tribute to their phenomenal services in various sectors.
Road is further stretched towards area of Gole Market and has been named after well-known gynecologist and founder of Dr. Ziauddin Hospital, Dr. Aijaz Fatima.
Dr. Aijaz Fatima's contribution towards health and humanitarian services is beyound once imagination. A lady of upright character and persona and a seasoned gynaecologist who tirelessly worked day in and day out for the humanity. In District Central several other projects are on cards for the masses relief.
Also after completion of those projects, they too will be names will be named after benefactors of our nation so that our new generation will remember their sacrifices, achievements and the success of their predecessors for country and nation.
Published in The Daily National Courier, September, 12 2022
Like Business on Facebook, follow @DailyNCourier on Twitter to stay informed and join in the conversation.