Top exporters win accolades at President House
45th Export Awards of FPCCI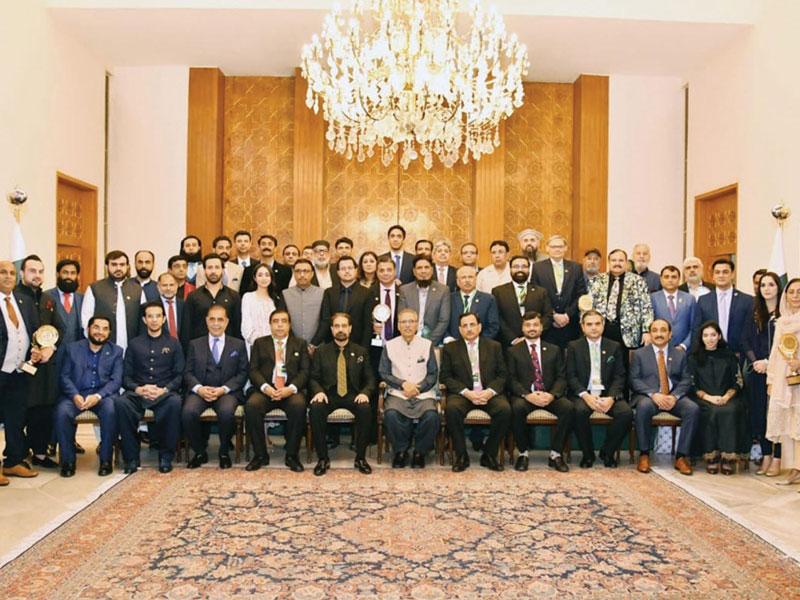 Karachi: President Dr. Arif Alvi addressing 45th FPCCI Export Awards said that Pakistan has to overcome its floods-related problems and move economic growth in right direction and, we are very hopeful that we will give a better Pakistan to our future generations. It is based on fact that our region is undergoing rapid changes in world that Pakistan can benefit from, he added.
Despite challenging circumstances, our business community is continuing its business with great diligence and working day and night to increase country's exports. Dr. Alvi said that thanks to your hard work that Pakistan's exports have crossed $ 31 billion dollar mark in FY22. Dr. Arif Alvi said that I am happy that FPCCI is an institution which has been playing its role for promotion of exports of Pakistan unrelentingly for decades and, connecting Pakistan's business community through its platform.
He congratulated all 45th Export Award Trophy of FPCCI winners. President Dr. Arif distributed awards for best performance among top exporters this year. Irfan Iqbal Sheikh, President FPCCI, Mian Anjum Nisar former President and Senator Haji Ghulam Ali former President were also present. Irfan Iqbal Sheikh said that we are happy that Pakistan is moving towards economic growth, prosperity and stability and will emerge as one of economic powers in region. He added that as Afghanistan begins process of reconstruction, Pakistan must be ready to derive economic benefits.
He maintained that there is an enormous potential to better capitalise on benefits of CPEC. FPCCI and Pakistan's business community will help government meet taxation targets. He said that there was an urgent need to address issues of industry and trade and provide a conducive environment for businesses. Mian Anjum Nisar said that despite all difficulties, exporters are working hard for development of country. Due to increase in cost of doing business in China, it has become very difficult to do business there. If government facilitates reduction of cost of doing business, then companies from many countries including China will invest in Pakistan and economy will be much better placed, he added.
Published in The Daily National Courier, October, 01 2022
Like Business on Facebook, follow @DailyNCourier on Twitter to stay informed and join in the conversation.