Al-Shifa 'death zone', says WHO as Israel pounds Gaza Strip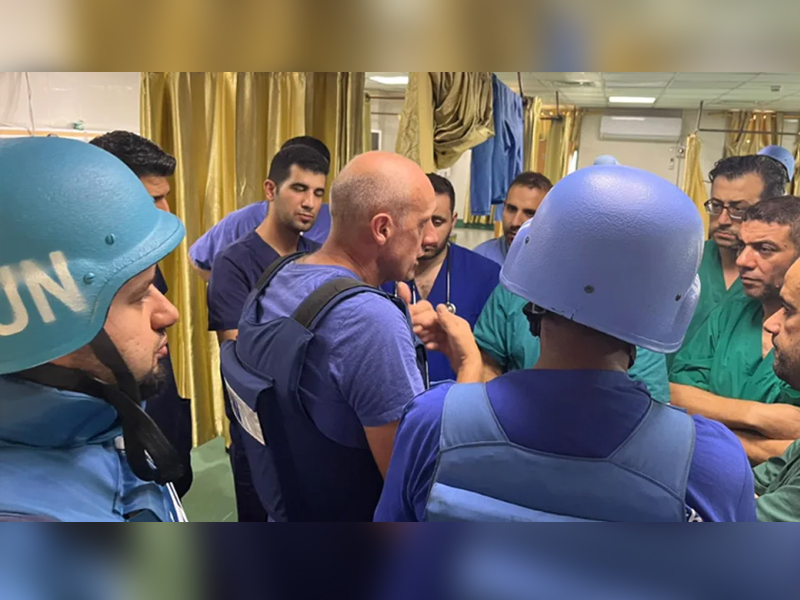 Gaza: Israeli onslaught against people of Gaza continued for 44th consecutive day on Sunday with hospitals in narrow enclave ceasing to function amid bombardment on refugee camps and United Nations-run schools.
World Health Organisation described Gaza's largest hospital Al-Shifa as "Death zone" announcing plans to evacuate last remaining patients while Israeli Army said it was expanding operations to destroy Hamas.
Meanwhile, Israeli bombardment targetting hospitals, refugee camps, schools and residential areas in north and south Gaza is ongoing round clock allowing for no respite even as Hamas fighters continue to resist.
At least 31 Palestinians were martyred in separate strikes at Nuseirat refugee camp and another refugee camp, reported Al Jazeera. Besides, dozens of people, including children, were martyred in Israeli air attacks on UN-run schools in northern Gaza, including Al-Fakhoora school in Jabalia refugee camp and school in Tall Az-Zaatar.
Over 12,300 Palestinians, including at least 5,000 children have been martyred in Gaza Strip since October 7 by Israel's relentess air and ground military campaign while thousands have been injured and displaced.
UN says some 1.6 million people have been displaced inside Gaza Strip by six weeks of fighting. WHO's assessment of Al-Shifa Hospital came after visit by its teams along with other UN officials.
On Sunday, WHO described hospital as "Death zone", with mass grave at entrance and nearly 300 patients left inside with 25 health workers. AP news agency quoted Medhat Abbas, spokesperson for Palestinian Health Ministry as stating that 30 premature babies were evacuated from hospital.
There are also 32 babies in "Extremely critical condition," WHO said.
In Khan Younis, where an explosion was heard on Sunday afternoon, according to Al-Jazeera, Al-Amal Hospital has been running without electricity and water for at least six days.
Published in The Daily National Courier, November, 20 2023
Like Business on Facebook, follow @DailyNCourier on Twitter to stay informed and join in the conversation.